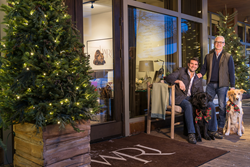 This year the WRJ team got proactive, curating a mini "gift-guide" featuring an array of effortlessly luxurious ideas.
JACKSON HOLE, Wyo. (PRWEB) December 15, 2017
As snowflakes start to swirl in the Tetons each year, WRJ Design's clients begin calling the award-winning interior design firm's Jackson Hole showroom looking for holiday gift ideas for friends, family and hostesses. This year the WRJ team got proactive, curating a mini "gift-guide" featuring an array of effortlessly luxurious ideas for holiday giving that reflect the firm's sophisticated mountain style.
Headquartered in the heart of the picturesque ski resort town of Jackson, Wyoming, the WRJ Design showroom is steps from Jackson's famous Town Square, bustling with visitors who come to experience the unparalleled natural beauty of the region, as well as to shop and find inspiration from the local talent.
Founded by Rush Jenkins and Klaus Baer in 2003, WRJ Design is known regionally and nationally for its richly textured contemporary, high-alpine interiors that incorporate the natural beauty of the West with the history and artisanal traditions of the finest internationally sourced materials. Guiding the design of all WRJ interiors is the desire to create a harmonious home, and since opening in Jackson Hole, the firm has gone on to create spectacular interiors around the Mountain West and beyond.
This year the firm has released a gift guide to friends and shoppers to help inspire thoughtful giving from its showroom that offer a taste of WRJ's rustic modern style, including these six selections under $500 that are rich in beauty and functionality:
1. For those still seeking the perfect gift for the savvy entertainer in their life, WRJ Design suggests a simply elegant porcelain salad bowl with leather saddle straps by Ralph Lauren. Priced at $195, the bowl can grace the table year-round, making the most of garden offerings.
2. A terrifically chic gift idea for the consummate traveler, WRJ Design recommends this cashmere and wool travel kit by Katrin Leuze, complete with cushy pillow, eye mask and socks. The dream-inducing set showers frequent flyers with love and luxury. $375.
3. Families can show off their adventures in style with classic Ralph Lauren Brenna Leather photo frames. WRJ Design suggests the 5x7-inch frame for $250 or the 8x10-inch for $395.
4. Another offering from Katrin Leuze, a wool and cashmere throw tidily bundled in its leather carrier promises coziness for any plein air event. $475.
5. Well-suited for any home for the holiday – and year-round – WRJ suggests a stunning crystal Saint Louis Plein Phare Candleholder. $440 for the pair.
6. And primed to celebrate the new year, what hostess wouldn't love a stainless-steel Ralph Lauren champagne cooler accented with saddle leather. $250.
These pieces and more are available at the WRJ Design showroom at 30 South King Street in Jackson. Shoppers are encouraged to call the showroom at (307) 200-4881 for additional ideas or to place an order; gift wrap and shipping is available.
Named Best Mountain Designer in 2017 by Rhapsody Magazine, WRJ also was recently honored with two home projects featured in the new coffee table book Rustic Modern, which presents residences that resound with customized details but also emphasize an inherent connection to nature. Rustic Modern, available for purchase here, also makes a terrific holiday gift for design lovers.
About WRJ Design:
Headquartered in Jackson, Wyoming, WRJ Design imparts the special serenity of its local Teton landscape to interior designs in Jackson Hole and across the country. Begun out of a passion for great design by Rush Jenkins and Klaus Baer, WRJ creates experiences and environments through its designs that provide timeless reflections of homeowners and their collections. WRJ is also known for exhibition designs that offer insight into the lives of luminaries as they showcase the objects they loved. Winner of the 2016 Home of the Year from Mountain Living magazine, WRJ Design also creates the blog Hunt X Gather, named one of the Top 100 Interior Design Blogs on the web. For more information visit http://www.wrjdesign.com.
Media Contact: Amy Stark, amy(at)wordprmarketing(dot)com, 307.734.5335