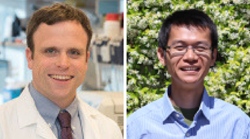 YORBA LINDA, Calif. (PRWEB) December 18, 2017
Infectious disease surveillance and monitoring is critical in settings where disease outbreaks and antibiotic resistance can dramatically impact human health. Rapid and accurate detection of human pathogens between closely related strains and across phylogenetic kingdoms is paramount to mitigate disease outbreaks and to diagnose affected individuals.
This webinar will demonstrate cross-kingdom species detection by simultaneously sequencing DNA from eight bacteria and two fungi in the ZymoBIOMICS® control. Speakers will describe the impact of a sickness on the proportion of natural flora. Participants will learn the tools implemented for microbiome and metagenome data analysis and species detection, such as BLAST, MetaPhlAn, and CLARK. They will learn the most prevalent bacteria of the skin, gastrointestinal (GI) tract, oral cavity, and urogenital tract.
The speakers for this webinar, which is sponsored by Zymo Research, will be Dr. Christopher Mason,
Associate Professor at Weill Cornell Medicine, and Dr. Shuiquan Tang, a scientist at Zymo Research Corp.
Mason completed his dual Bachelor of Science in genetics and biochemistry from University of Wisconsin-Madison, before going on to earn his doctorate in genetics from Yale University. He is currently an Associate Professor at Weill Cornell Medicine, with appointments at the Tri-Institutional Program on Computational Biology and Medicine, the Meyer Cancer Center, and the Feil Family Brain and Mind Research Institute. The Mason laboratory develops and deploys new biochemical and computational methods in functional genomics to elucidate the genetic basis of human disease and human physiology.
Tang is currently a research scientist at Zymo Research. He received his doctorate from the Department of Chemical Engineering and Applied Chemistry from the University of Toronto. He joined Zymo Research in 2014, and has since been instrumental in the research and development of Zymo's microbiomics and metagenomics programs. Most recently, Dr. Tang has been involved in the development of Zymo Research's microbiomics portfolio.
LabRoots will host the event January 30, 2018, beginning at 9:00 a.m. PST, 12:00 p.m. EST. To learn more about this event, the continuing education credits offered, or to register for free, click here.
About Zymo Research Corp.
Zymo Research Corp., also known as "The Epigenetics Company", is a privately held company based in Irvine, California, USA. Since its inception in 1994 it has been serving the academic and biopharmaceutical scientific communities by providing DNA and RNA purification products. Zymo Research was an early adopter in the field of epigenetics and offers a line of products used in DNA methylation detection and quantitation. In addition to the epigenetic and nucleic acid purification products, Zymo also provides genetic, epigenetic and transcriptome analysis services. Follow Zymo Research Corporation on Facebook, LinkedIn, Twitter, and Instagram.
All trademarks are the property of their respective owners. Zymo Research Corp., the stylized logo, and the tagline "The Beauty of Science is to Make Things Simple" are trademarks of Zymo Research Corp. and are registered with the USPTO.
About LabRoots
LabRoots is the leading scientific social networking website, which provides daily scientific trending news, as well as produces educational virtual events and webinars, on the latest discoveries and advancements in science. Contributing to the advancement of science through content sharing capabilities, LabRoots is a powerful advocate in amplifying global networks and communities. Founded in 2008, LabRoots emphasizes digital innovation in scientific collaboration and learning, and is a primary source for current scientific news, webinars, virtual conferences, and more. LabRoots has grown into the world's largest series of virtual events within the Life Sciences and Clinical Diagnostics community.