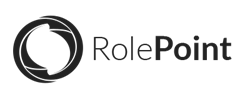 "[Our users are] spending less time sifting through irrelevant results and trying different keywords. Now, with Google Cloud Job Discovery, our search knows exactly what kinds of jobs they're looking for." - Kes Thygesen, co-founder and head of product at RolePoint
SAN FRANCISCO (PRWEB) December 19, 2017
RolePoint (https://www.rolepoint.com) announced the integration of its employee referral platform with Google Cloud Job Discovery. This new feature powers smarter job searches and transforms the way searchers find relevant opportunities. RolePoint's integration is unique because it powers its clients' internal portals. This improves employee referral and internal mobility programs.
Previously, RolePoint used a standard search that featured basic keyword matching. Now, with Cloud Job Discovery, RolePoint users are getting a much more powerful search experience that goes beyond exact matches.
"Our users are seeing up to seven times the number of results being returned," said Kes Thygesen, the co-founder and head of product at RolePoint. "Their results are also ranked more effectively. They're spending less time sifting through irrelevant results and trying different keywords. Now, with Google Cloud Job Discovery, our search knows exactly what kinds of jobs they're looking for."
The most notable features of this integration with RolePoint include:

Real-time query broadening that automatically expands results that are similar to suitable positions
A learning engine that improves search results over time
Recognition that identifies terms that are company jargon or abbreviated and retrieves relevant results
Title detection that recognizes job titles that are similar to keywords being used
"We are already seeing great results with our clients," Thygesen said. "Their employees are finding more jobs within their company, which improves both internal mobility and the employee referral program. With more relevant results, employees don't miss out on any opportunities. Overall, this integration is boosting engagement with the platform and improving conversion rates."
For more information about how Google Cloud Job Discovery enhances the employee referral program and internal mobility experience, visit http://try.rolepoint.com/google.
About RolePoint
RolePoint is the leading employee referral platform that increases referred hires and streamlines program management. Their products also include internal talent mobility software and a mobile optimized application program that integrates with HR systems in a fast, simple way. For more information on the leading talent acquisition technology, visit https://www.rolepoint.com.