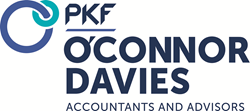 HARRISON, N.Y. (PRWEB) December 15, 2017
PKF O'Connor Davies, LLP, the nation's 28th largest accounting and advisory firm, announced today that the Yonkers Chamber of Commerce presented the Firm with the Business Professional Award at the 124th Annual Business Dinner Hall of Fame at Westchester Manor on Nov. 16, 2017. The Firm was recognized for its contributions to Yonkers' distinguished community and businesses, including entrepreneurs and family-owned and small businesses.
"We're honored to receive this award from this respected and historic organization," said Nicholas DeSantis, Senior Executive Partner of the Government Service Division. "We've worked closely with the Yonkers Chamber and many Yonkers businesses for years, and many of our employees are proud to call the Yonkers area home. This recognition is a validation of the support we've been able to provide in this tremendous community."
DeSantis was specifically recognized for his long-time commitment to the community, holding many government positions with the City of Yonkers, including City Manager, Budget Director and Commissioner of Finance. The chamber commended his deep expertise and skills in the field of government service and budgeting and finance.
The Yonkers Chamber of Commerce also noted the dedicated personalized attention the Firm provides that help clients meet unique and diverse objectives, as well as partners, principals and staff who are actively involved in the area's philanthropic, religious cultural and service groups.
About PKF O'Connor Davies, LLP
PKF O'Connor Davies, LLP is a full service Certified Public Accounting and advisory firm with a long history of serving clients both domestically and internationally. With roots tracing to 1891, nine offices in New York, New Jersey, Connecticut and Maryland, and more than 700 professionals, led by over 100 partners, the Firm provides a complete range of accounting, auditing, tax and management advisory services.
PKF O'Connor Davies is ranked number 28 in Accounting Today's 2017 "Top 100 Firms" list and the Firm is also recognized as a "Leader in Audit and Accounting," a "Pacesetter in Growth" and one of the "Top Firms in the Mid-Atlantic." PKF O'Connor Davies is ranked number 28 in INSIDE Public Accounting's 2017 "Top 100 Firms" list and recognized as one of the "Top Ten Fastest-Growing Firms." In 2016, PKF O'Connor Davies was named one of Vault's Accounting 50, a ranking of the 50 best accounting employers to work for in North America, and ranked among the top 50 most prestigious accounting firms in America in a complementary Vault survey. The Firm is the 11th largest accounting firm in the New York Metropolitan area, according to Crain's New York Business, and the 11th top accounting firm in New Jersey according to NJBiz's 2017 rankings.
By consistently delivering proactive, thorough and efficient service, PKF O'Connor Davies has built long-lasting, valuable relationships with its clients. Partners are intimately involved in the day-to-day management of engagements, ensuring a high degree of client service and cost effectiveness. The Firm's seasoned professional staff members employ a team approach to all engagements to provide clients with the utmost quality and timely services aimed at helping them succeed. Continuity of staffing and attention to detail in all client engagements make the Firm stand out among its competitors.
PKF O'Connor Davies is the lead North American representative of the international association of PKF member firms. PKF International is a network of legally independent member firms providing accounting and business advisory services in 440 locations in 150 countries around the world. With its tradition, experience and focus on the future, PKF O'Connor Davies is ready to help clients meet today's ever-changing economic conditions and manage the growing complexities of the regulatory environment. For more information, visit http://www.PKFOD.com.