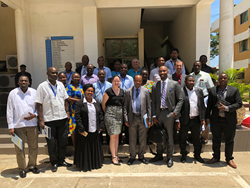 "We believe that education is a fundamental human right, hence everyone should get this opportunity. I will ensure that the software and systems are developed to make individuals acquire education wherever they are."
DAR-ES-SALAAM, Tanzania (PRWEB) December 15, 2017
The Open University of Tanzania (OUT) and the Astria Learning, a Tampa based e-learning centric company from Florida, USA signed a Memorandum of Agreement (MoA) to improve the learning environment of both students and tutors of Open Distance Learning Institutions in Sub-Saharan Africa through the OUT.
Astria Learning focuses on expanding access to higher education through e-learning and build the capacity of many students through technology. The signing of the MoA will enable both parties to help improve distance education in Tanzania.
The Chief Executive Officer of Astria Learning, Dr Jeff Bordes said, "We believe that education is fundamental human right, hence everyone should get this opportunity. I will ensure that our systems are as innovative as possible to ensure that everyone can get a proper education, regardless of where they live."
"Through the low cost EduTab, which are pre-equipped with all the apps, students will be able to do their work both offline and online. Also we shall digitize the e-books into our offline library app so that they can be accessed without Internet," said Dr Bordes.
The Vice Chancellor of OUT, Professor Elifas Bisanda said, "We are delighted to sign this MoA that will enable us to deepen our cooperation on issues related to e-learning and other development projects."
It is anticipated that cooperation will focus on several areas include the sharing of expertise, improve opportunities and serve a link between the two parties and other interested people across the East African region and beyond. The collaboration encourages authors of academic books to share or sell them though the fast growing digital e-library that already has more than 6,000 textbooks. OUT students shall receive access to the Ebooks for one year once they purchase the EduTab supplied by Astria Learning at an affordable cost.