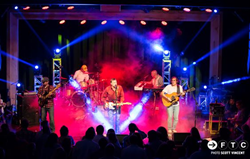 FAIRFIELD, Conn. (PRWEB) December 15, 2017
Feeling the pressure to have the best New Year's Eve ever? Searching for a spot that's always down to get down? There are so many ways to cut loose on NYE; it can be a little overwhelming to choose just where to do it. The Warehouse at FTC in downtown Fairfield is hosting their third annual NYE party. More than just another New Year's Eve concert, the town of Fairfield has countless resources to give people a true New Year's night on the town.
The eats. There are so many incredible restaurants within walking distance to visit before show time. Location. Location. Location. The venue is mere feet away from the Metro North train station and all the parking in the area is free. The Experience. The Warehouse knows how to throw a party for a variety of people of all ages. During the last year alone, FTC hosted over 300 events that drew over 80,000 people. Combine that knowledge with the jazzy-jammy-reggae-tinged sound of The Samples and it's an NYE home run. In short, it's the perfect place for an all-evening affair - even for those who aren't familiar with the band.
The chilled-out and groovin' melodies of The Samples are just what's needed to transition into the New Year. Residing somewhere between The Police and The Grateful Dead, The Samples are reggae rock with the know-how to jam out. As said by the Hartford Courant, "There's a simple innocence and general positive vibe that comes through on a lot of the Samples material. Imagine Jack Johnson with a more pronounced sense of musical history and a wistful streak. If you're looking for dark, downer jams, you might want to look elsewhere though."
While the Colorado quartet has performed across the country for over 30 years, they keep coming back to Fairfield. Musicians have an understanding of music venues far different than patrons. While concertgoers can speak to the sight lines and the drink prices, it takes a musician to ascertain insight into what makes a venue truly great.
The Samples' frontman Sean Kelly explains, "For me, what makes a venue great, other than the sound of the room, is the hospitality. FTC has it down. Everyone that works there is incredibly hospitable, friendly, responsible, and cool to hang out with. It's an amazingly run venue. You show up there, and the staff is capable and nice. Believe it or not, it's a rare thing in this industry. And, the show is always great. It's nice to be taken care of, the sound is spot on, and the crowds are overwhelmingly loving and energetic."
Kelly continues, "We have a special connection to FTC and the Northeast in general. I'm from Rowayton so the Gold Coast is home. We've really been looking forward to returning to this region for New Year's. It's been a long time since celebrating on the East Coast so we're looking forward to pulling out all the stops."
No show by The Samples has ever been repeated. With a catalog of 29 distinct albums spanning across 23 years, Kelly can safely say that New Year's Eve will be one-of-a-kind. Kelly explains, "Recent years have been exciting. Over the last few years, we performed at Red Rocks Amphitheatre in Colorado with Rusted Root and The Spin Doctors, shared a concert cruise with OAR, performed alongside Matisyahu, and will be making our way back to the Northeast for our sixth FTC show."
New Year's Eve at FTC includes live music, a midnight champagne toast, complimentary party props, and more. VIP tickets include a roped off viewing area, autographed NYE show poster, and meet & greet with the band.
Sean Kelly and The Samples perform at 8 p.m. Sunday, Dec. 31 in The Warehouse at Fairfield Theatre Company. Doors open at 7 p.m. and general admission and VIP tickets are available.
For more information on the show, visit fairfieldtheatre.org.
About Fairfield Theatre Company:
Fairfield Theatre Company is a highly-acclaimed non-profit performing arts organization located in the heart of downtown Fairfield. FTC presents over 300 concerts and events each year featuring outstanding national talent at FTC's StageOne and at The Warehouse. FTC's venues are widely recognized as being the best places to see live performances in the region. FTC's mission is to connect and enrich the community through the transforming power of the arts. For more information, go to fairfieldtheatre.org.