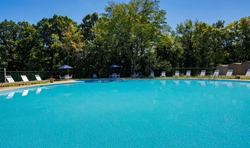 It is clear that DF Multifamily has a formula for success and we could not be where we are without the experience that DF brings to the table.
Baltimore, MD (PRWEB) December 15, 2017
In today's highly competitive environment, attracting and maintaining shares from the many diverse choices available to consumers in today's rental market is a significant challenge. That challenge is only amplified when dealing with a 47-year-old asset that has long established itself in the community without the variety of amenities that may attract a larger pool of residents and command higher rents.
A high level of planning, experience and foresight comes into play as most properties would take 1-2 years to see such marked improvements but, in this case, high-performing turnaround was accomplished in less than 9 months. Chadwick Manor, located in Baltimore, Maryland is a 416-unit property with a long-standing reputation as a great place to live known for its attractive location near good schools, medical services and shopping. "We have always enjoyed a lot of success with the Chadwick Manor community over the years, but we knew there was an opportunity for improved efficiencies", according to the Trustees of the property.
That is where DF Multifamily, a division of Drucker + Falk, one of the nation's premier property managers came into the picture. "We saw the same opportunity as the owner of Chadwick Manor and together we created a vision for a rejuvenated living community for a better resident living experience and for increased returns for the owner", remarked Andrew Chisholm, Director of DF Multifamily. The teams at DF Multifamily developed a plan of action that included:

Conducting a comprehensive evaluation of the neighborhood market to establish accurate rent levels resulting in increased occupancy with 3% market rent growth
Implementing a utility reimbursement program helping to offset the rising cost of utilities in the Baltimore market
Evaluating non-strategic costs in maintenance, office and vendor expenses decreasing annual operating costs by over $1,000 per unit
Appealing successfully and winning 2016 metro water service charges for an immediate reduction in current and future expenses
"From this vision, we created a plan of action that takes into consideration a holistic view of the property type, current market conditions, community dynamics, demographics and investment returns", added Chisholm. The result was exceptional and, in only 9 months, net operating income (NOI) increased by over 47% with over 12% increase in owner distributions all while completing community enhancements. "It is clear that DF Multifamily has a formula for success and we could not be where we are without the experience that DF brings to the table," say Trustees. They continued, "Our property is now more attractive to a larger market of potential residents and the programs put in place ensure a high degree of resident satisfaction. The short timeframe for this kind of performance improvement is certainly exemplary for any property management firm."
Chadwick Manor, despite age, has been transformed into vibrant, appealing townhomes that continue their role as a core part of the Baltimore community. "We are proud to serve the residents of Baltimore with townhomes that embrace the character of the community and that will serve its residents for many years to come", states Jim Ledbetter, President of Drucker + Falk and DF Multifamily.
Founded in 1938, Drucker + Falk is a full service real estate and investment firm, managing a diverse portfolio of nearly 30,000 apartments in nine states and operates three divisions, DF Multifamily, DF Commercial and DF Ventures. Collectively, the company specializes in multifamily management of all asset types including new development and construction consultation as well as lease ups, restoration and upscale multifamily conversions and commercial brokerage services. The company also provides services for asset repositioning and stabilization of challenging properties, mixed use management and due diligence. To obtain more information visit http://www.druckerandfalk.com. 
For more information on Chadwick Manor Townhomes, see http://www.chadwickmanor.com/.