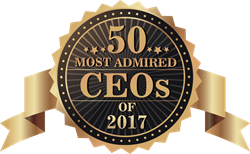 This achievement caps off a great year for the entire team at Approyo
MILWAUKEE (PRWEB) December 18, 2017
Approyo is honored to announce that CEO Christopher Carter has been recognized as one of the 50 Most Admired CEOs of the Year by The Technology Headlines.
The issue sheds light on 50 most admired CEOs and their journeys to success, it also provides insights on their mission and vision, their backgrounds, and the traits that make a resilient leader.
"It was a great pleasure reviewing these CEOs, as they all had inspiring as well as thought-provoking stories to share," said Carlos Chavez, editor-in-chief of The Technology Headlines.
Nicole Anderson, Senior editor at the Technology Headlines further added, "Our editorial team has not only selected the CEOs that are at the forefront of bringing a change in the industries, but also the entrepreneurs that are committed to adding value to customers."
"I am extremely honored to be named one of the 50 most admired CEOs in 2017 by The Technology Headlines," said Christopher Carter, CEO of Approyo. "Thanks to the team at Approyo for making this possible. This achievement caps off a great year for myself and the entire team at Approyo."
To acknowledge such companies, CEOs and their efforts, the editorial team at The Technology Headlines has come out with a list of "50 Most Admired CEOs of the Year." The editorial team at The Technology Headlines hopes that the proposed list and valuable insights by these industry leaders will help customers gain a new perceptive on leadership.
Approyo has been providing solutions powered by SAP HANA®, such as the latest version of SAP S/4HANA®, in the cloud for the last three years. Approyo built an entire platform using the best solutions in the market, helping companies move to SAP HANA quickly and benefit immediately.
About Approyo
Approyo offers products and services that include upgrades, comprehensive remote operations/managed services, consulting, hosting and implementations and cloud services. Approyo differentiates itself by offering scalable managed solutions built on SAP HANA for organizations of all sizes. Headquartered in Milwaukee, WI and offices in throughout North America, Europe and South America, plus partners around the world, Approyo has the capability to support global organizations and their applications.
For additional information e-mail us at info(at)Approyo(dot)com, call 404.448.1166, or visit us on the web at http://www.Approyo.com.
About The Technology Headline
The Technology Headlines covers major industry trends in the U.S. and APAC markets, and is working alongside leading players to document the opinions and the expectations of the global tech community. It also supports the established players in the market to unveil a commercial launch of their new products through its knowledge platform.
SAP, SAP HANA, SAP S/4HANA and other SAP products and services mentioned herein as well as their respective logos are trademarks or registered trademarks of SAP SE (or an SAP affiliate company) in Germany and other countries. See http://www.sap.com/corporate-en/legal/copyright/index.epx for additional trademark information and notices.
All other product and service names mentioned are the trademarks of their respective companies.