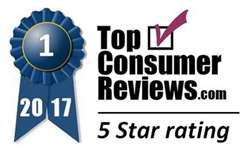 With competitive pricing and an incredible selection, it's no wonder that eBags is our top-ranked retailer of Handbags.
OVERLAND PARK, Kan. (PRWEB) December 15, 2017
TopConsumerReviews.com recently gave their best-in-class 5-star rating to eBags, a leader among online retailers of Handbags.
Many accessories come and go in popularity, but Handbags remain fairly consistent. Whether trying to make a fashion statement with the latest trends, or simply looking for a convenient way to carry phones, keys, and makeup, having the right Handbag for the occasion is a common goal for ladies. Finding that perfect clutch, change purse, or messenger bag, however, is easier said than done. Shoppers don't want to spend hours - if not days - driving from store to store, hoping that some local retailer will have what they want. Online shopping is the best of both worlds, combining excellent selection and competitive prices.
"Since opening their online store in 1998, eBags has sold more than 25 million Handbags, making them the #1 retailer in the US for purses of every variety," according to Brian Dolezal of TopConsumerReviews.com, LLC. "Looking for Vera Bradley, Fossil, or other top brands? You'll find them at eBags. From crossbody bags to hobos and even diaper bags, their selection is unparalleled, and their easy-to-use website with photos and detailed descriptions makes it simple to see exactly what you're getting. Shoppers especially like that eBags has a 60-day return policy on all defective or unused purchases. With competitive pricing and an incredible selection, it's no wonder that eBags is our top-ranked retailer of Handbags. We're pleased to name them as our first-choice winner in the category for 2017."
To find out more about eBags and other sellers of Handbags, including reviews and comparison rankings, please visit the Handbags category of TopConsumerReviews.com at http://www.topconsumerreviews.com/handbags/.
About eBags
With more than 17 years in travel and over 26 million bags sold, eBags is the leading online retailer of luggage, backpacks and accessories. The company is devoted to helping its customers find the perfect travel gear for any journey. Ranked a top luggage retailer in 2016 by Consumer Reports. eBags features 80,000 products from 800 brands, including TUMI, Samsonite, Kenneth Cole, Patagonia, The North Face and more.
About TopConsumerReviews.com
TopConsumerReviews.com, LLC is a leading provider of independent reviews and rankings of hundreds of consumer products and services. From Handbags to Luggage and Watches, TopConsumerReviews.com delivers in-depth product evaluations in order to make purchasing decisions easier.