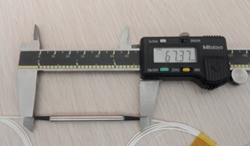 The expanding T95 family of passively compensated optical wavelength reference devices is the basis for a growing number of test and measurement instruments
ATLANTA, BEIJING, and SINGAPORE (PRWEB) December 17, 2017
FBGs are reliable all-fiber optical components have been used for making accurate and reliable temperature and strain measurements for over two decades. However, when used as optical wavelength references or markers, FBGs need to be packaged into devices that ensure the absence of any strains on the FBG while also passively compensating for temperature fluctuations in the surrounding environment. Technica's family of T95 Athermal FBGs has now been expanded to include smaller, compact size, mini packaged devices packaged in both single-ended and double-ended configurations. Optical wavelength referencing circuits are widely used in industry and in research and development laboratories. Often used together with other optical components, Athermal FBGs are an enabling technology for sub-picometer level absolute measurement systems.
The T95 is a Wavelength Reference consisting of a Fiber Bragg Grating (FBG) encapsulated in a package that contains advanced materials effective at providing passive temperature compensation by matching the coefficient of temperature expansion (CTE) of the FBG's single mode (SM) fiber. Typically, when changes of temperature occur and the fiber FBG expands, the center wavelength of the FBG shifts as well. In the case of the T95 Athermal Packaged FBG, the compensation material bonded to and surrounding the FBG fiber shrinks proportionally to the expansion of the FBG fiber to yield a passively temperature compensated FBG device. Our precision athermal packaging yields excellent wavelength stability over the customers' temperature range of interest, typically -10 to +60 Degrees Celsius. Available in a wide range of optical specifications and exhibiting stable operation for highly accurate long-term use. Proprietary and licensed technologies are used to ensure that each sensor has a stable optical core and a matching material composition and outer diameter for device protection that is well fit for the environment in which the device will be used. Inquire with Technica about custom packaging options for integration into customer designs. 
"This new family of Mini Athermal FBGs has proven to perform well as part of new generation wavelength referencing systems embedded in our customers' test and measurement instruments for use in Aerospace, Automotive, Medical, Nuclear, and Civil Engineering applications. A good alternative to FBGs that need to be placed on a block and be heated or cooled to maintain wavelength stability, the expanding T95 family of passively compensated optical wavelength reference devices is the basis for a growing number of test and measurement instruments configurations to address emerging industry needs" stated Alice Yang, Director of Marketing at Technica. 
The T95 Athermal FBG has been in production for several years and continues to receive excellent customer feedback. Currently installed in various applications with practically no returns since its initial release. Now, the newly expanded family of Athermal FBGs is poised to find applications in an expanding range of designs.
Click here for the new T95 Athermal FBG datasheet to review detailed specifications and options.
Technica is a leading developer, manufacturer, and provider of premium quality Fiber Bragg Grating sensors and FBG array sensors in acrylate, polyimide, gold, steel, GFRP, and PEEK coatings. The company also proudly licenses and produces individual OEM custom packaged filters and sensors. Technica is headquartered in Atlanta, USA, with Advanced Technology and Manufacturing Centers in Singapore and Beijing, China.