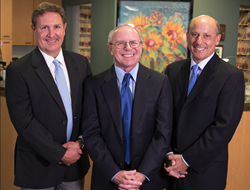 SAN DIEGO (PRWEB) December 19, 2017
Well-respected San Diego, CA, dentists, Drs. Lawrence Addleson and R. Douglas Campbell, and two of their registered dental assistants, Lisa and Selam, recently attended a special event held and sponsored by the San Diego Advanced Study Group (SDASG). The SDASG is made up of general dentists, periodontists, prosthodontists, oral surgeons and other members of the dental community who meet regularly. Their latest continuing education course focused on ceramic dentistry in the modern age, as well as being able to affordably bring new technologies to patients.
Speaker Dr. Parag R. Kachalia, DDS, a Pride Technology Leadership Council member, explored multiple facets of running a modern dental center during his talks. "Predictable Ceramics: A Detailed Look at Ceramic Dentistry Today" and "Ten Things That Will Help My General Practice, Without Breaking the Bank: Overview of New Technologies with a Clear ROI" gave study group attendees the opportunity to rethink their strategies to provide patients with improved experiences and outcomes.
Art of Dentistry has a long history of providing cutting-edge services to individuals searching for experienced implant, general, and cosmetic dentistry from highly trained, dedicated, caring professionals. Some of their most-requested treatments include CEREC® same-day crowns, Invisalign®, dental implants, and gum disease prevention and management solutions. In addition, the office provides sedation dentistry for those with dental anxiety or related concerns.
Drs. Addleson and Campbell and their team are accepting new patients for cosmetic dentistry services. Those interested in making an appointment for an initial consultation with a dentist in San Diego, CA, should call the Art of Dentistry at 619-291-4325. More information about the practice can be found at http://www.sandiegoartofdentistry.com.
About the Practice
Art of Dentistry is a cosmetic dental practice offering patients customized dental care in San Diego, CA. Applying a philosophy that considers the art, science and biology of a smile, Drs. Lawrence Addleson, R. Douglas Campbell and David Landau provide personalized care in a comfortable, family atmosphere. With combined experience of over 85 years, the Art of Dentistry team uses state-of-the-art technology and leading techniques to craft each healthy smile. To learn more about Drs. Addleson, Campbell and Landau or the services they offer, visit their website, http://www.sandiegoartofdentistry.com. To experience the Art of Dentistry difference, call 619-291-4325.