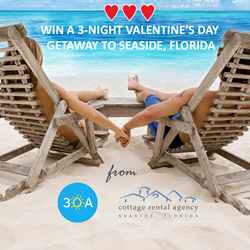 Seaside, Florida vacations are unforgettable.
SEASIDE, Fla. (PRWEB) December 26, 2017
Cottage Rental Agency, the premier vacation rental company in Seaside, Florida, https://cottagerentalagency.com, has partnered with the beach lifestyle brand 30A® to give away a Romantic Valentine Vacation prize package. One lucky winner will receive a 3-night stay in Seaside, Florida plus a merchandise gift card from the 30A Company.
The Cottage Rental Agency giveaway includes a three-night stay February 9-12, 2018 at the Seaside, FL home known as Little Lodge, one of more than 150 vacation rental properties in Seaside, Florida managed by the Cottage Rental Agency. The adorable 2-bedroom cottage was recently featured in Coastal Living Magazine. The winner will also receive a merchandise gift card from 30A Gear. 30A® is a brand that celebrates small-town beach life along Florida's gulf coast, selling high quality products including their line of clothing made from recycled plastics.
The contest begins January 5, 2018 and runs through Jan 22, 2018. The 3-night stay prize package is valued at $1300.
Seaside, Florida, built on 80 acres on Florida's Gulf Coast, is located between Panama City Beach and Destin. Acclaimed world-wide as one of the iconic examples of New Urbanism, Seaside, FL offers a thriving town center with shopping and dining, all within walkable distance to homes, cottages and offices. "Seaside, Florida harkens back to a bygone era, a time of front porch swings, picket fences, and bike rides with your family and friends," says Sarah Hanley of Cottage Rental Agency. "A vacation in Seaside, Florida is always unforgettable."
To enter the Cottage Rental Agency 30A.com Romantic Seaside, FL Giveaway, visit https://www.cottagerentalagency.com/win-a-romantic-3-night-stay-in-seaside-fl/ The contest begins January 5, 2018 and runs through Jan 22, 2018. The winner will be chosen at random within 5 days of contest end. To enter you must be 25 or older.
For more information contact us at (888) 369-6434 or visit the website https://cottagerentalagency.com to learn more.
About Cottage Rental Agency – Seaside, Florida
The premier provider of beach cottages and luxury homes in Seaside, Florida for 30 years, Cottage Rental Agency has the largest selection of vacation rental homes in Seaside, FL and exclusive, full-service guest amenities. CRA is the only rental agency with a professionally staffed, onsite Welcome Center with hotel-style check in, full concierge services, business center, and more.
About the 30A Company
Inspired by small-town beach life on a scenic highway that meanders along Florida's Gulf Coast, 30A® isn't just a line on the map. It's a lifestyle – that happy place we all dream of when we need a little time to unwind, unplug and celebrate life. The company has given away over 1.4 million of its famous blue 30A stickers, and has over 900,000 Facebook fans around the world.