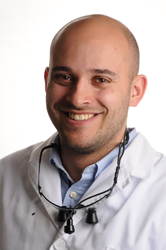 NEW YORK (PRWEB) December 19, 2017
As an emerging periodontist recently honored by the American Academy of Periodontology, Dr. Alexander Volchonok of AVPeriodontics has added the renowned LANAP® protocol to his litany of treatments and solutions for patients affected by gum disease and bleeding gums in New York, NY.
Dr. Volchonok has received his LANAP certification in this revolutionary method to rapidly, precisely, and comfortably address soft and hard tissues affected by gum disease. During the LANAP procedure, a handheld PerioLase® MVP-7™ tool enables Dr. Volchonok to effectively utilize the precision and gentle power of lasers to vaporize diseased gum tissue and eradicate harmful bacteria.
LANAP allows certified providers the ability to halt the progress of oral bacteria without harming healthy tissue. This dental laser is also useful for patients seeking other gum-related treatments. These include gingival depigmentation, which evens out discoloration in the gums, and removal of non-cancerous oral lesions.
Individuals who know or suspect that they have gingivitis or periodontitis are encouraged to call AVPeriodontics for a thorough assessment. Dr. Volchonok regularly sees patients with such symptoms as chronic bad breath, receding gums, and bleeding gums in New York, NY. Call 929-293-0200 or visit http://www.avperio.com to arrange an appointment.
About the Practice
AVPeriodontics is a modern periodontal practice offering leading care to patients in New York, NY. Dr. Alexander Volchonok is a Diplomate of the American Board of Periodontology, director and co-founder of the NYC Interdisciplinary Study Club and has lectured both nationally and internationally on various periodontal and dental implant related topics. Dr. Volchonok is dedicated to pioneering the latest minimally invasive techniques to periodontics and implant dentistry and takes a collaborative approach to patient care. To learn more about Dr. Volchonok, the services he offers, or his practice, AVPeriodontics, visit his website at http://www.avperio.com or call his practice at 929-293-0200 to schedule a personalized consultation.