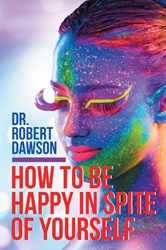 "Much has been said about happiness – about what it is and how to get it, but little has been said about how to stay happy. My book answers why this is by addressing the reasons instinct needs us to be unhappy." - Dr. Robert Dawson
QUEENSLAND, Australia (PRWEB) December 18, 2017
In time for New Year's resolutions, author and retired clinical psychologist, Dr. Robert Dawson, has released "How to be Happy in Spite of Yourself," which details ways to achieve happiness, how to stay happy, and explains how instincts cause unhappiness.
With over 40 years of experience, including owning his own private practice, Dr. Dawson is now providing his methods for anyone to discover in his new book.
"Much has been said about happiness – about what it is and how to get it," said Dr. Dawson. "Little has been said about how to stay happy. We all share the experience that happiness is hard to achieve and even harder to hold on to. We are not often happy, and when we are, we don't stay happy for long. In contrast we are often unhappy, and when we are it seems to be enduring. My book answers why this is by addressing the reasons instinct needs us to be unhappy."
In the book, Dr. Dawson details the three-step habit people need to develop to moderate the negative effect of the human survival instinct on the quality of life that he discovered through his study of evolutionary psychology.
Upon reading the book, readers will be able to identify how their instinct is undermining their happiness and see it for what it is – a normal and necessary automatic reaction to life's challenges – and then, they can be on their way to being happy in spite of it. To learn more please visit http://www.drrdawson.com.
"How to be Happy in Spite of Yourself"
By Dr. Robert Dawson
ISBN: 978-1-5043-0978-3 (sc), 978-1-5043-0979-0 (e)
Available on Amazon, Barnes & Noble, and the Balboa Press Bookstore
About the author
Dr. Robert Dawson graduated with an honor's degree in psychology from the Australian National University, a master's degree in clinical psychology, and a PhD from the University of Melbourne researching the comparative effectiveness of cognitive and behavior therapies. He is a member of the specialist Clinical College of the Australian Psychological Society and has worked in private practice as a clinical psychologist for more than forty years. He has lectured in the psychology programs of three Australian Universities and was in charge of the Psychology Department of Royal Darwin Hospital. For ten years he trained Psychiatrists, Doctors, Psychologists, and other Allied Health Professionals in the skills of Cognitive Behavior Therapy (CBT). Dr. Dawson lives in Queensland, Australia.
For general inquires & review copies contact:
LAVIDGE – Phoenix
Lauren Dickerson
ldickerson(at)lavidge(dot)com
480-998-2600