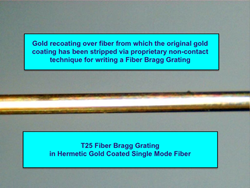 Being naturally hermetically sealed and mountable by standard metal bonding techniques, gold coated fiber based standard and high-temperature FBGs make for the ideal optical circuit device or sensing core component"
(PRWEB) December 20, 2017
Many measurement applications in harsh environments would benefit greatly by using fiber Bragg grating (FBG) sensing technology, given its numerous well-known advantages such as absolute temperature measurement, rapid response, multiple sensing points on a single fiber strand with minimal mechanical burden and intrusion, as well as the critical properties of EMI immunity, spark free, and chemical inertness. However, the presence of high humidity, or high temperatures, corrosive chemicals or high mechanical stress often encountered in real life environments impose serious challenges on the glass fiber coating. Of the various coating candidates, gold-coated FBG sensors not only offer the mechanical protection and hermetic seal needed in harsh environments, but the enhanced sensitivity through plasmonic effects is also particularly useful for bio-chemical measurements.
"All laser writing techniques require stripping and recoating when gold is involved. To meet the demand of these applications, Technica has developed reliable processes to end-strip or window-strip acrylate, polyimide, aluminum, copper, and gold coated fibers, fabricate standard and high-temperature FBGs, and then recoat them with acrylate, polyimide, or gold coatings. Our proprietary fabrication process allows for varying lengths of window stripping and recoating with very controllable and repeatable length control. Few FBG sensors in the world can survive to 1,000 Degrees Celsius as these do" stated Tommy Jin, Chief Operations Officer of Technica Optical Components, LLC.
"The gold recoating that follows the process of writing the FBGs provides very good adhesion between the gold layer and the bare fiber glass surface, and can routinely endure >100 KPSI pull forces on the gold fiber containing the FBG sensor, prior to exposure to temperatures above 300 Degrees Celsius. Being naturally hermetically sealed and mountable by standard metal bonding techniques, gold coated fiber based standard and high-temperature FBGs make for the ideal optical circuit device or sensing core component," added Andrei Csipkes, Chief Executive Officer of Technica Optical Components, LLC.
These high-temperature gold coated FBG sensors fabricated by annealing, regenerative, and/or femtosecond laser writing techniques have demonstrated unique advantages in providing multipoint and multifunction measurement capabilities in an ever increasing range of applications not previously addressable by FBGs fabricated using standard manufacturing techniques. However, properly designed fiber sensor packaging is also critical for maintaining the FBG sensor's integrity, survivability, functionality, and durability. The ability to manufacture these FBGs with subsequent protection in strain-locked gold coatings and loose tube steel allows Technica to offer unique and practical solutions for fiber-optic sensing in both typical (T25) and high-temperature environments (T98 ad T160). Furthermore, they are a seed technology poised for addressing emerging needs in bio-chemical sensing (T75).
This may not be a "Silver Bullet" to solve all measurement challenges but it is truly and literally a new "Golden Solution" for many challenging applications!
Click here for more details on the T25 Gold Coated FBG, here for T75 Tilted FBGs for Biosensors, here for T98 High-Temperature FBGs, and here T160 High-Temperature FBG Array Sensors.
Technica is a leading developer, manufacturer, and provider of premium quality Fiber Bragg Grating sensors and FBG array sensors in acrylate, polyimide, gold, steel, GFRP, and PEEK coatings. The company also proudly licenses and produces individual OEM custom packaged filters and sensors. Technica is headquartered in Atlanta, USA, with Advanced Technology and Manufacturing Centers in Singapore and Beijing, China.