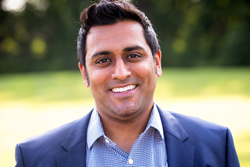 POWELL, Ohio (PRWEB) December 19, 2017
To extend the most modern treatments for those looking for a dentist in Powell, Delaware, Columbus, Marysville, Marion, Sunbury and nearby Ohio area patients, in addition to those traveling from out of state in search of advanced dental care, Drs. Rajan Sheth and Diana Park have opened Smile Center Ohio. Located at 10401 Sawmill Pkwy in Powell, OH, the patient-centric, state-of-the-art office mirrors the leading-edge services offered at the dentists' first location, Delaware Smile Center, in Delaware, OH.
Smile Center Ohio's team of dentists in Powell, OH, focus on giving patients the options they need to maintain premium oral health. To ensure nearly pain-free, comfortable, precise, and reliable dental experiences, the dentists offer sedation dentistry. Sedation dentistry allows those with dental anxiety the opportunity to receive the healthcare they need without concern. The new practice also offers state-of-the-art dental implants and All-on-4® procedures to replace lost teeth and restore oral health. Other modern offerings at the new center include The Wand® anesthesia, Piezosurgery®, plasma rich growth factors, digital x-rays, intraoral scanners, radiosurgery, and 3D cone beam CT scanning.
Drs. Sheth and Park remain on the forefront of dentistry by regularly attending continuing education courses and events beyond what is required. As more exciting and influential developments in dental offerings emerge, they are committed to bringing ideal dental care to the populations they serve.
Individuals and families looking for a dentist in Powell, OH, or the surrounding areas can set an initial appointment with Dr. Sheth or Dr. Park through their website, http://www.smilecenterohio.com, or by calling the Smile Center Ohio office at 740-417-9565.
About the Practice
Delaware Smile Center offers modern dental care to patients in Delaware, OH. Dr. Rajan Sheth and Dr. Diana Park both graduated from Ohio State University. Dr. Sheth received additional training in pediatric special needs and the adult population with complex medical histories and is certified to offer IV sedation to help patients feel comfortable during their treatment. He and Dr. Park are dedicated to the latest techniques and technology and dedicate more than the minimum number of hours to continuing education courses. Delaware Smile Center offers a range of services from dental implants, sleep apnea treatment and orthodontics to complete smile makeovers. With a philosophy of treating their patients as their own family, this team is committed to leading, comfortable care. To learn more about Drs. Sheth and Park or the services they offer visit http://www.smilecenterohio.com or call 740-417-9565 to schedule a comprehensive consultation.