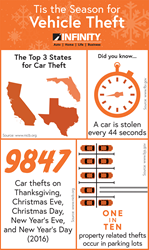 BIRMINGHAM, Ala. (PRWEB) December 22, 2017
California, Texas, and Florida top the National Insurance Crime Bureau (NICB) charts for auto theft during the Holidays with a combined 8,803 thefts reported for the three states. While Christmas Day seems to have lower theft rates, Christmas Eve, New Year's Eve, and New Year's Day rank among three of the highest in holiday auto theft.
Glen Godwin, President and CEO of Infinity Insurance, suggests making sure you have comprehensive coverage as part of your auto insurance policy. Having comprehensive auto insurance could help save an otherwise disastrous Holiday Season, as normally, insurance companies cover the actual cash value of a stolen vehicle.
Many times, car thieves will commit their crimes because objects are left out within reach inside of a car. Laptops, cameras, cell phones and other personal items sitting in plain sight are tempting targets to criminals looking for a quick smash and grab opportunity. It is important to remember that while comprehensive auto insurance will cover the vehicle damages, personal belongings are not normally included in the plan.
Anthony Smarrelli, Senior Vice President of Claims for Infinity, states "If your car is vandalized or damaged during an attempted total theft, or has glass or lock damage during a partial theft---the cost for repairs would be covered by your Comprehensive Coverage if purchased with your auto policy. With Comprehensive coverage, you will pay the selected deductible amount and your insurance company would pay for the remaining related damages."
To prevent a vehicle from being burglarized, it is always best to keep personal items out of sight, lock the doors, close all the windows completely and park in a well-lit area. Investing in an audible alarm system or a tracking system will also keep burglars away this Holiday Season.
Keeping one's comprehensive insurance up-to-date will also give a sense of safety and protection to vehicle drivers, and Infinity Insurance urges car owners to review their policies and coverage plans to ensure a joyous and scare-free season.
About Infinity Insurance: Infinity Property and Casualty Corporation is a national provider of personal automobile insurance with a concentration on nonstandard auto insurance. Its products are offered through a network of approximately 11,200 independent agencies and brokers. For more information about Infinity Insurance, please visit InfinityAuto.com.