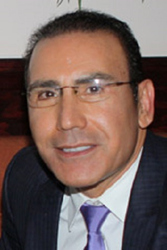 LOS ANGELES (PRWEB) December 15, 2017
Van Nuys dentist, Dr. Hamid Reza, and the team at Hamlin Dental Group is offering a special holiday promotion. New and existing patients can take advantage of treatments to improve their dental health or the aesthetics of their smiles just in time for the holiday season.
This special, which will only be available for a limited time, includes a variety of options, such as:
Porcelain crowns and American Zirconia crowns for just $745

Free dental whitening treatment
Oral Hygiene Club membership
Ortho Buck
Free Oral B electric toothbrush
Special Friends and Family rewards program
The variety of treatments makes it easy for patients to get the care they need at affordable prices. New patients can get to know the team at Hamlin Dental Care, which includes a team of general dentists and specialists, including Drs. Garemani, Aminian, Koshkerian, Vafadar, Yessaian, Woo and Wang.
Dr. Hamid Reza offers digital X-rays, dental extractions, smile makeovers, dental veneers, dental implants, dental crowns, teeth whitening, dental fillings, periodontal filling and crown lengthening. Hamlin Dental Group accepts most major dental plans and offers many payment options, including convenient financing.
Good dental care requires preventive dentistry as well as restorative dentistry as needed. Dr. Reza and his team offer the full range of preventive treatments, including cleanings, checkups, fluoride treatments and dental sealants. From the first appointment, patients will be provided with personalized care and a treatment plan designed to help them improve their dental health, transform their smiles and achieve their goals.
About Hamlin Dental Group and Dr. Hamid Reza
Hamlin Dental Group, which was founded by Dr. Hamid Reza, offers preventive, orthodontic, cosmetic, restorative and periodontal dentistry for patients of all ages.As a member of the California Dental Association and the American Dental Association, Dr. Reza is a highly qualified dentist. Dr. Reza is also an avid volunteer who has provided quality dental care in and worked with schools, dental workshops, parent centers, shelters, youth programs and senior homes.