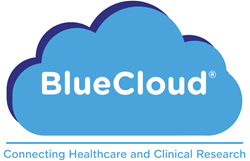 AUSTIN, Texas (PRWEB) December 19, 2017
HealthCarePoint (HCP), a Texas-based health care and clinical research networking-technology company founded by patient-survivors, today announced its mutual collaboration with Clinerion. The collaboration will further both companies' shared mission of transforming clinical trials by expanding access to patient data analytics services.
Members of the BlueCloud Sponsor Network will be able to view the locations and numbers of Clinerion's patients on a dynamic map. Drill-downs allow the user to narrow the selection by therapeutic area and indication. Clinerion is expanding its global coverage rapidly and will keep the patient map up-to-date. With 76 Sponsors currently in the BlueCloud network, managerial healthcare professionals will now be able to search tens of millions of patients around the world on Clinerion's PRS platform by therapeutic area and indication.
The PRS solution queries hospital electronic patient health records to offer patient search and identification for clinical trials, as well as report generation for real-world evidence and market access analyses. PRS utilizes Clinerion's proprietary "Anonymized Identification" technology, which ensures patient privacy by performing patient search and identification from fully anonymized records.
"Clinerion is thrilled to provide BlueCloud members with the opportunity to identify patients for trials they are running," says Ulf Claesson, CEO of Clinerion. "Our goal is to bring our patient populations from around the world access to the most cutting edge medical treatments. BlueCloud's members will give access to innovative medicine where it is most needed."
"Our members are eager to utilize the patient mapping technology to enhance their role in clinical research. The integration of Clinerion's services into the BlueCloud system will add tremendous value for everyone involved in our network," stated Al Pacino, President and CEO of BlueCloud by HealthCarePoint. "Embracing the technological capabilities of today will help modernize the industry immediately."
HealthCarePoint and Clinerion will present their collaboration for the first time at the SCOPE Summit at Orlando, Florida, on February 12th-15th, 2018.
About BlueCloud by HealthCarePoint
BlueClouds are preferred destinations for healthcare and clinical research professionals, employers and stakeholder organizations. Nominated as one of the top innovations in the industry, BlueCloud® is the first independent (real-time/single sign-on) global Professional Network. A global collaborative network connects healthcare professionals and organizations in a secure, private system. It is comprised of various networks, including education, standards, technology, healthcare professionals, research sites, healthcare sites, schools and patients, that organize, centralize and share verifiable information for managerial and compliance activities. Available in over 162 countries, BlueClouds are used by over 1.3 million healthcare professionals from sponsors, CROs, research sites, hospitals and universities to thousands of healthcare and clinical research stakeholders. Saving the industry millions of dollars by eliminating redundancies, BlueClouds expedite study startup as well as ensure quality, transparency and compliance with the united mission of leaving no patient behind®.
Clinerion enables early patient access to innovative treatments through solutions for clinical trial patient recruitment, real-world evidence, and market access. Clinerion's PRS accelerates clinical research by radically improving the efficiency and effectiveness of trial recruitment. Clinerion's key patient data services include data-assisted protocol optimization, site feasibility evaluation and patient identification. Clinerion's solutions allow member hospitals to participate in leading-edge, industry-sponsored trials and save time in patient recruitment. They enable pharmaceutical companies to gain time and save costs by streamlining operations and leveraging strategic intelligence. Clinerion's proprietary Big Data analytics technologies leverage real-time data from electronic health records which remain under the full control of participating hospitals. Clinerion is a global data technology service company headquartered in Switzerland. Clinerion's solutions comply with international patient privacy and data security regulations.