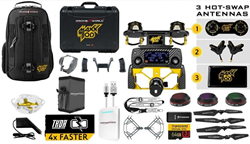 (PRWEB) December 16, 2017
The most wonderful time of the year means the most wonderful prices of the year, including great price slashes on the perfect accessories for DJI drones. Drone World continues to wow their customers with top notch accessories at super low prices. The latest sales feature one of the most popular drones on the market today, the DJI Mavic Pro and Platinum accessories. All accessories are currently on sale at 25% off, including some extremely valuable options such as the DJI Mavic Pro & Platinum THOR Supercharger, carbon fiber propellers, L-series lens filters, Maxx mod remote range extender, or new mavic pro platinum propellers.
SEE ALL MAVIC ACCESSORIES HERE: http://www.drone-world.com/dji-mavic-pro-accessories
"Nearly every accessory for the DJI Mavic Pro is compatible with the Mavic Pro Platinum, which is great for drone lovers because they can find some fantastic accessories to complement their Mavic Pros, no matter which edition they have!" expressed Chris Brunasso excitedly. He continued, saying "We really want all of our customers to take advantage of these sales, because they won't be around forever, and our exclusive Mavic Pro accessories really transform the entire drone flying experience."
Drone customers can ensure they always get the most out of their drone with either of the two sets of propellers now on sale for the Mavic Pro. The platinum propellers are handy to have as a backup in case of an accident, while the carbon fiber propellers add 3-10 mph of speed! Likewise, the THOR supercharger is the veritable king of battery chargers, capable of charging up to three batteries and a remote, all at once. It's next level technology that Mavic Pro owners are sure to love. Plus, all of that charging happens a rate that is 4x faster than any charger on the market today, which is truly mind blowing. Other accessories include hard case, quick deploy backpack, mavmount tablet holder, sunshades, lens filters, remote stick protector and more. Ultimately, every accessory available from Drone World is a smart buy, and all of the best can be found packaged together in their accessory bundles.
CHRISTMAS SALE: don't forget to see Drone World's Holiday sales at drone-world.com
About Drone World:
Drone-World.com is the Web's preferred destination for consumer and professional unmanned aerial drones, drone kits, and drone accessories. Drone-World.com combines superior customer service and know-how with over 5 years of drone experience and 10 years of web sales and service. They specialize in custom DJI Phantom & Mavic bundle kits, including the highly popular DJI Phantom 4 Pro/+ Executive & Falcon Edition kits featured in RotorDrone Magazine as well as commercial use Inspire 2 kits, Osmo kits and the newly released DJI Phantom 4 Pro kit and the DJI Phantom 4 Pro+ (Plus) bundle. Use coupon code ACC15 for 15% off Drone World brand accessories.
For more information contact:
(888) 901-3108
sales@drone-world.com