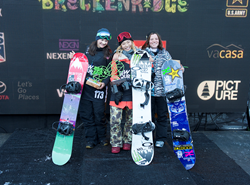 It's so crazy because I get so nervous before the competitions, but once I get in the halfpipe I forget about it all - Chloe Kim
BRECKENRIDGE, Colo. (PRWEB) December 17, 2017
Monster Energy sends big props to Chloe Kim as she made quick work of the halfpipe at the Dew Tour on Friday. With another convincing win, the 17-year-old snowboard phenom continued her dominance of the sport with a showing that seemed unfair at times for the other competitors. Just a week after taking first place at the Grand Prix at Copper Mountain (the second U.S. Olympic qualifier), this win scored Kim enough to qualify for a spot on the US Olympic Snowboard Halfpipe team.
Despite the fact that Mother Nature has been late to show this winter in Colorado, a fresh six-inches fell over the past few days giving the Rockies a much needed blanket of white as competition for the Dew Tour kicked off in Breckenridge late Friday afternoon. With that, the field of eight of the best women snowboarders in the world gathered atop the 22-foot Superpipe to fading sunlight and crispy winter temps.
Among those eight stood Kim, a young woman who came onto the scene at the age of thirteen and in subsequent years has left mounting evidence that she is the best woman halfpipe rider of this generation, if not ever.
Rounding up the women's field, Kim was last to drop as the first run concluded. With curls of blond locks flowing from her beanie she was about to set the evening on fire and prove why she is the PyeongChang gold medal favorite.
Pumping towards her first hit on the backside wall, the power demonstrated by her controlled use of the transitions and edging for more speed was then translated in to a massive method air as she flew out of the pipe a good 15-feet. However, this was simply a set up for the most exciting trick in women's halfpipe today, a frontside 1080, in this case grabbed tail and floated 30-plus feet down the pipe. This was a trick done in full commitment and in contrast to the style of the other competitors.
"I'm pretty sure I tweaked my hip on that one," said Kim, before laughing, "But it was worth it!"
At this point she could have played it safe en route to victory but apparently that is a foreign concept to Kim, as she proceeded to round out her run with a frontside 720, a frontside 540 and stylish Mctwist on her final hit.
Moments later the judges handed down a 93.00, a score that would go uncontested as the women powered through their final two runs.
"It's so crazy because I get so nervous before the competitions, but once I get in the halfpipe I forget about it all," said Kim after her win.
Watching Kim ride the Halfpipe it becomes immediately evident that she poses a distinct advantage over the other riders. Whether it's hard work or raw talent hardly matters, simply put, if Kim lands her run she will win the contest. Given her bag of tricks, style and amplitude (all three best in show), the only way the other competitors have a chance is if she falls. With last week's victory at the Grand Prix in Copper Mountain and still two more qualifiers to go in Snowmass, Colorado and Mammoth Mountain, California in January, Kim has mathematically secured her spot on the US Olympic Team. That said, barring some unforeseen circumstance, Kim will be representing the U.S. in the Women's Snowboard Halfpipe completion in PyeongChang, South Korea in February.
For more on Kim and the rest of the Monster Energy snowboard athletes visit http://www.monsterenergy.com.
Follow Monster Energy on YouTube, Facebook, Instagram and Twitter.
About Monster Energy
Based in Corona, California, Monster Energy is the leading marketer and distributor of energy drinks and alternative beverages. Refusing to acknowledge the traditional, Monster Energy supports the scene and sport. Whether motocross, off-road, NASCAR, MMA, BMX, surf, snowboard, ski, skateboard, or the rock and roll lifestyle, Monster Energy is a brand that believes in authenticity and the core of what its sports, athletes and musicians represent. More than a drink, it's the way of life lived by athletes, sports, bands, believers and fans. See more about Monster Energy including all of its drinks at http://www.monsterenergy.com.