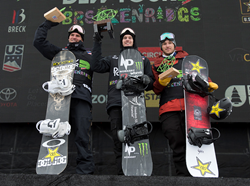 The flat light made it extremely challenging to get through the course today. I'm just grateful to have put a run down - Jamie Anderson
BRECKENRIDGE, Colo. (PRWEB) December 17, 2017
Monster Energy's Max Parrot wins his first Dew Tour title scoring a 97.00 on his second run. Teammate Jamie Anderson takes second and secures spot on the U.S. Olympic team.
Parrot(CAN) has been competing at the Dew Tour for many years and is no stranger to the podium, but winning his first Dew Tour title was significant even though he already pre-qualified to represent the Canadian Olympic Team.
"I've been competing at the Dew Tour for seven years, and while I've got second and third, getting that first place spot has always been on my checklist," said Parrot.
After scrubbing his first run washing out on the last jump, as per usual the mild mannered Canadian made no waves as he casually dropped in to the highly technical course and stomped his second run. Firing things off with a gap to 270 boardslide and a backside 360 to 270 off on the upper rails. Now speeding toward the first jump backwards he set up for a switch backside double cork 900 before spinning three and a half times for a cleanly stomped backside double cork 1260. The fun had only just begun though as he checked his speed for a quick tailslide to 270 out on the middle rail. Now riding switch he floated "mellow" cab 900 double cork before sending the judges minds whirling as he unloaded a fontside triple cork 1440 mute.
With the stakes raised, not only was the prestigious Dew Tour title on the line this year, but the event also doubled as an Olympic qualifier for U.S. athletes. For Anderson, who took gold in 2014 at the Sochi Olympics in the inaugural Slopestyle event, the competition was not only a chance to further her legacy as one of the best women slopestyle riders of all-time, but it was also a bid to secure a spot on the 2018 U.S. Olympic team, which she successfully did.
Though snow conditions were much improved thanks to a quick snowstorm earlier in the week, riders had to contend with flat light as the event began under a blanket of grey skies. Because of that, a total of eight women and twelve men then set out to battle not only their nerves and fellow competitors, but also the very contours that define the inventive course. With two upper rail sections followed by two jumps, riders then had to contend with a middle rail feature before sending it home with two final kickers at the bottom of the course.
First up were the women and as imagined many had a difficult time with the light either over or under-shooting the jumps due to lack of depth perception. For Anderson though, it was apparently just another day at the office as on her first run she put down a 93.33, a score that held up for two more runs en route to securing second place.
Beginning with a gap to front board and a boardslide to 270 off, Anderson then charged towards the first jump throwing down a lazy style backside 540. She followed this with an equally stylish cab 540 mute grab. Though conditions were tough, it appeared as though she could have been riding with her eyes closed considering her effortless demeanor.
After a mellow 50/50 with a backside 180 out on the middle rail, she then stomped a switch backside 180 and a frontside 720 indy grab on the last two jumps, but unfortunately Spencer O'Brien beat her score with a 95.00.
"The flat light made it extremely challenging to get through the course today," she said before humbling confessing, "I'm just grateful to have put a run down."
With Anderson and Parrot on top of their game both are locked in to represent the U.S. and Canada for their respective Olympic teams. That said, as two of the most decorated and progressive competitive snowboarders in the world, could this be a preview of what's to come in PyeongChang, South Korea in February?
Download photos here for editorial use only.
For more on Parrot, Anderson and the rest of the Monster Energy snowboard athletes visit http://www.monsterenergy.com. Follow Monster Energy on YouTube, Facebook, Instagram and Twitter.
About Monster Energy
Based in Corona, California, Monster Energy is the leading marketer and distributor of energy drinks and alternative beverages. Refusing to acknowledge the traditional, Monster Energy supports the scene and sport. Whether motocross, off-road, NASCAR, MMA, BMX, surf, snowboard, ski, skateboard, or the rock and roll lifestyle, Monster Energy is a brand that believes in authenticity and the core of what its sports, athletes and musicians represent. More than a drink, it's the way of life lived by athletes, sports, bands, believers and fans. See more about Monster Energy including all of its drinks at http://www.monsterenergy.com.