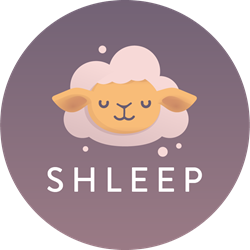 "The mission of Shleep is to help the world sleep better -- and it is also my personal mission," said Dr. Els van der Helm, Ph.D, founder and CEO of Shleep. "I dream of making a measurable contribution to a more harmonious society with energetic people who feel good about themselves."
AMSTERDAM (PRWEB) December 19, 2017
Shleep, the leader in sleep technology, today announced the launch of its neuroscience-driven sleep platform. Available on iOS and Android mobile devices, Shleep is the first fun, easy to use, science-based sleep coaching app that helps people change their behaviors to improve sleep. Driven by neuroscience, Shleep specializes in optimizing productivity, health and wellbeing. Debuting at CES 2018, the new Shleep app is accessible to everyday consumers and was created by sleep expert and Ph.D, Dr. Els van der Helm and a team of fellow PhDs. Dr. van der Helm was recently noted by Arianna Huffington as one of the twenty most influential people in the field of well-being and sleep. Further, the Shleep platform has already been put to the test by globally recognized companies such as The Huffington Post, Deloitte and Spotify -- who have all experienced strong results to the tune of 50 percent reduction in sleep debt.
"The mission of Shleep is to help the world sleep better -- and it is also my personal mission," said Dr. Els van der Helm, founder and CEO of Shleep. "I dream of making a measurable contribution to a more harmonious society with energetic people who feel good about themselves."
More than a third of American adults are not getting enough sleep on a regular basis and, as a result, they suffer from fatigue and productivity costing U.S companies $411 billion per year. The social effects of poor sleep quality and sleep deprivation are substantial, leading to reduced productivity and a loss of concentration, creativity and emotional responsiveness. When someone is fatigued, the risk of an accident increases by 70 percent — in the U.S. more people are killed by drowsy driving than drunk driving. At the same time, insufficient sleep increases the risk of various diseases, including Alzheimer's, diabetes and cancer. The app is built according to a philosophy that revolves around two core themes: understanding and behavioral change. The better someone understands that certain behaviors lead to disturbed sleep and increased risk of disease, the easier it is to change the behavior.
How Shleep works
Once the app is opened, users see a questionnaire after a short animated introduction. After viewing the video, users receive a tailor-made program that sets out to improve their individual sleeping habits, including relaxation and dealing with and detaching from technology. The information is presented in a series of videos, combined with targeted exercises.
"The sleep program had more impact than any other workshop I've done. One year later, I still think of it at least two to three times a week. In my work, having enough sleep is crucial. I walked away with very practical tips that have become part of my daily routine," said Yves ter Huurne, Engagement Manager, McKinsey.
Van der Helm's research at the University of California at Berkeley, Harvard Medical School and The Netherlands Institute for Neuroscience has resulted in multiple peer-reviewed articles, journals and several book chapters. Her publications have been featured by Harvard Business Review, The Atlantic, Huffington Post, Inc. Magazine, McKinsey Quarterly, and many others.
Shleep is making its debut at CES 2018 at the Las Vegas Sands Hotel, Eureka Park, Hall G-51522, Booth #42 and Showstoppers at CES on Tuesday evening, January 9, 2018. To schedule a meeting please contact shleep(at)mercuryglobalpartners(dot)com.
About Shleep
Shleep serves clients around the world and helps improve their health, performance and happiness through advice on sleep. Shleep's corporate programs provide digital training, personalized assessments, sleep education through tailored workshops, individual and group sleep consultations and policy recommendations to achieve improved health, leadership, effectiveness and engagement. Follow Shleep on Twitter, like us on Facebook or learn more at http://www.shleepbetter.com/shleep-for-me/.
###