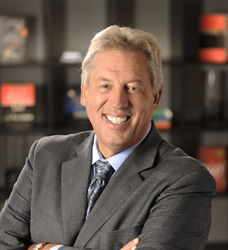 "We received so much excitement about John C. Maxwell's appearance from people outside our organization, that we really wanted to find a way to accommodate them. We are thrilled to be able to share this opportunity with those who appreciate John's work." Casey Watkins, Symmetry Founder & Partner
ASHEVILLE, N.C. (PRWEB) December 18, 2017
John C. Maxwell will serve as Symmetry Financial Group's keynote speaker for its National Conference on Saturday, February 3, 2018. A limited number of tickets are available to the public to hear Maxwell share his stories of growth and leadership.
The conference will be held at the Raleigh Convention Center, located at 500 South Salisbury Street in Raleigh, N.C. General admission tickets to hear Maxwell speak are $79 and do not include other portions of Symmetry Financial Group's conference. Maxwell will take the stage from 10:30 am to 12:00 pm. Attendees are asked to be checked in and seated by 10:00 am. For more information, visit http://www.sfglife.com/2018nationalconference.
"We received so much excitement about John C. Maxwell's appearance from people outside our organization, that we really wanted to find a way to accommodate them," said Casey Watkins, Founder and Partner of Symmetry Financial Group. "We are thrilled to be able to share this opportunity with those who appreciate John's work."
Maxwell is a professional speaker and leadership coach who was recognized by Inc. Magazine as the #1 leadership and management expert in the world. He has sold over 26 million books, many of which focus on leadership. In addition, Maxwell has spoken to Fortune 500 companies, nonprofits, universities and more about his experiences. You can connect with Maxwell on twitter at twitter.com/JohnCMaxwell and learn more about him at JohnMaxwell.com.
Symmetry Financial Group is headquartered in Asheville, N.C. and provides personalized life insurance policies to protect individuals and families across the country. To learn more, visit http://www.sfglife.com/.