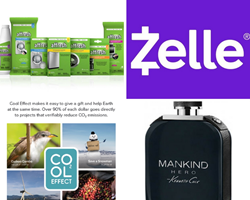 Last-minute tips for last-minute people.
NEW YORK (PRWEB) December 19, 2017
Still haven't readied your home for holiday guests? Still haven't finished your Christmas shopping?
No worries. Lifestyle expert Jeni Bond, from FunTrendsUSA.com, has some great last-minute suggestions:
"Affresh Specialized Cleaners make clean up a snap. Their Stainless Steel Mousse gently cleans fingerprints and smudges, leaving your appliances streak-free and shiny. Affresh Disposal Cleaner tablets are formulated to clean and remove odor-causing residues from garbage disposals with a powerful foaming action. And Affresh Dishwasher Cleaner tablets can be used to help descale dishes and glassware during routine wash cycles. Visit affresh.com to find out where it's sold."
"Forget old-fashioned cash and checks, there's a new way to give money right from your mobile banking app. With Zelle, you can gift your friends and family money fast, safe and easily, typically within minutes—when the sender and recipient are both registered. And if you're doing group gifting and still haven't gotten paid, request money through Zelle. The sender needs to know only the recipient's email address or phone number. Visit ZellePay.com for a list of banks and credit unions that offer Zelle today."
"Cool Effect is a non-profit that allows individuals to take action against climate change by providing consistent funding to carbon reduction projects around the world. At CoolEffect.org, you'll find six tax-deductible gift packs to choose from. Each helps reduce greenhouse gas emissions, along with benefits for local citizens and wildlife in the communities where the projects are based. You can customize your gift by choosing a donation amount, and each comes with a personalized certificate with the recipient's name; instructions on how to create an origami figure; and a special message from you."
"The Kenneth Cole Mankind Hero fragrance reminds us we can all be somebody's hero. The fragrance has partnered with Big Brothers Big Sisters of America for their "Hometown Heroes" campaign, which highlights the importance of mentorship and community outreach. For every purchase of their specially-labeled Limited Edition Kenneth Cole Mankind Hero Fragrances, $2.00 will be donated to the organization. The fragrance is a combination of fresh mountain air, rich woods and black vanilla. It's available at Macys.com."
For more information, contact: Jeni Bond on Twitter @JeniBondSays or Barry D. Miller, Miller/Weiner Communications at 551-697-3007 or barry(at)miller-weiner(dot)com.