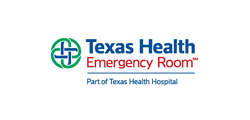 LEWISVILLE, Texas (PRWEB) December 18, 2017
Texas Health Resources opened its new Grand Prairie emergency room at 7am Monday, December 18, 2017. Open 24 hours a day, 365 days a year, the new facility is located at 901 W Jefferson St. in Grand Prairie, TX, just off S Carrier Parkway.
"We are pleased to bring this facility to Grand Prairie and look forward to delivering the highest quality emergency medical care here," said Dr. Frank Magro, Facility Medical Director of Texas Health Emergency Room Grand Prairie - Carrier Parkway.
All Texas Health Emergency Room facilities are open 24 hours per day, 7 days per week. The facilities are staffed exclusively with board-certified physicians and emergency trained registered nurses. Texas Health Emergency Room facilities are equipped with a full radiology suite, including CT scanner, Digital X-ray, Ultrasound, as well as on-site laboratories certified by the Clinical Laboratory Improvements Amendments (CLIA) and accredited by the Commission on Office Laboratories Accreditation (COLA).
To learn more about Texas Health Emergency Room and the new Grand Prairie location, please visit https://texashealthemergencyroom.com/locations/dallas-map/grand-prairie-carrier-parkway/
About Texas Health Resources
Texas Health Resources is one of the largest faith-based, nonprofit health systems in the United States. The health system includes 25 acute-care and short-stay hospitals that are owned, operated, joint-ventured or affiliated with Texas Health Resources. It includes the Texas Health Presbyterian, Texas Health Arlington Memorial, Texas Health Harris Methodist and Texas Health Huguley Hospitals, Texas Health Physicians Group, outpatient facilities, behavioral health and home health, preventive and fitness services, and an organization for medical research and education. For the last two years, Texas Health Resources has been named as a Fortune 100 Best Companies to Work For and the #1 Best Company to Work For in Healthcare. For more information about Texas Health Resources, call 1-877-THR-WELL, or visit http://www.TexasHealth.org.