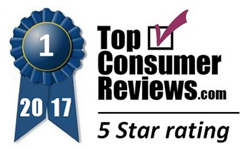 If you're looking for an established source of audiobooks with an excellent reputation, look no further than Audible.
OVERLAND PARK, Kan. (PRWEB) December 18, 2017
TopConsumerReviews.com recently awarded a five-star, first-place rating to Audible, an industry leader among retailers of Audiobooks.
In today's digital age, audiobooks continue to be one of the most popular ways to enjoy a good book. Because virtually everyone has access to some sort of device - laptop, desktop, tablet, and especially mobile phones - it has never been easier to access the hottest novels, timeless classics, or even school textbooks while on the go. Unfortunately, the selection available at most public libraries is limited, with long waitlists for the audiobooks they do carry. For this reason, online audiobook retailers make it fast and cost-effective for bibliophiles to get access to the books they want.
"If you're looking for an established source of audiobooks with an excellent reputation, look no further than Audible," explained Brian Dolezal, of TopConsumerReviews.com, LLC. "As an Amazon brand, you're guaranteed access to the world's largest collection of audiobooks in every imaginable genre. The Audible and Amazon partnership also makes it extremely easy to switch between devices for uninterrupted enjoyment of that suspenseful novel - or learning time for that book you have to read for work. Best of all, if you pick an audiobook that just doesn't live up to the hype, you can switch to a new book - at no extra charge. For all of these reasons, we're extremely pleased to name Audible our top choice for audiobooks and our first-place winner in 2017."
To find out more about Audible and other providers of Audiobooks, including reviews and comparison rankings, please visit the Audiobooks Products category of TopConsumerReviews.com at http://www.topconsumerreviews.com/audiobooks/.
About Audible
Audible, Inc., an Amazon.com, Inc., subsidiary, is the leading provider of premium digital spoken audio information and entertainment on the Internet, offering customers a new way to enhance and enrich their lives every day. Audible content, which includes more than 100,000 audio programs from more than 1,800 content providers that include leading audiobook publishers, broadcasters, entertainers, magazine and newspaper publishers, and business information providers, is digitally downloaded and played back on over 500 popular devices. Audible is also the preeminent provider of spoken-word audio products for Apple's iTunes® Store.
About TopConsumerReviews.com
TopConsumerReviews.com, LLC is a leading provider of independent reviews and rankings of hundreds of consumer products and services. From Audiobooks to Canvas Prints and Sporting Goods, TopConsumerReviews.com delivers in-depth product evaluations in order to make purchasing decisions easier.