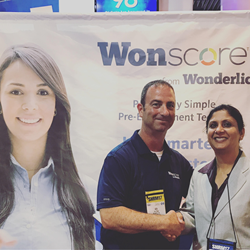 Poor hiring decisions and slow hiring rates result in high churn for hiring organizations. This integration solves for each of those challenges by giving candidates a wonderful experience and helping recruiters find the best fit
Reston, VA (PRWEB) December 19, 2017
BizMerlinHR now offers an out of box integration with Wonscore™ from Wonderlic to help employers quickly find the best candidates by automatically scoring candidates with an overall measure of fit. Hiring managers and recruiters understand the risk of losing these top candidates to time-consuming application processes. Research by CareerBuilder shows that 60% of applicants drop out due to lengthy processes. The BizMerlinHR candidate experience is clean and short to ensure that more individuals complete applications. Leveraging the power of proprietary artificial intelligence (AI), BizMerlinHR optimizes the candidates experience by cutting the application process to just 50 seconds!!
While BizMerlinHR helps ensure that candidates don't drop during the application process, Wonderlic helps recruiters and hiring managers quickly prioritize their outreach with the individuals who have the best potential for success. Wonderlic's Wonscore is tailored to each job opening to measure the specific dimensions of each candidate that are scientifically-proven to predict future job performance. The integration with BizMerlinHR provides easy access for employers to automate testing and scoring of job applicants directly within the ATS, making it easier than ever before to quickly identify and hire the best.
Ken Silber, Vice President of Strategic Partnerships at Wonderlic, explains: "This alliance makes all the sense in the world. Users on both platforms have loved each system's ease of use and candidate experience. This integration makes it even easier to hire the right candidate quickly." And now, BizMerlinHR and Wonscore work with a common goal to provide a unified service and high value packaged solution to hire more confidently and easily."
"Poor hiring decisions and slow hiring rates result in high churn for hiring organizations. This integration solves for each of those challenges by giving candidates a wonderful experience and helping recruiters find the best fit," says Elena Correas, VP - Partnerships at BizMerlin.
About WonScore:
http://www.wonderlic.com/wonscore
Wonderlic is a privately-held, pre-employment assessment company. Wonscore from Wonderlic is an easier, faster way to hire better employees. The assessment is scientifically-proven to predict job performance and helps identify who to interview and hire. For more information, contact 800-323-3742
About BizMerlinHR:
http://www.bizmerlin.com
BizMerlinHR is the human resource management solution of choice. Thousands of outstanding teams choose BizMerlinHR to hire, onboard, manage, allocate and retain their team members. Completely cloud based application available via your favorite web browsers and native iOS and Android mobile apps. 100+ integrations with JIRA, Salesforce, Freshbooks, QuickBooks and others.