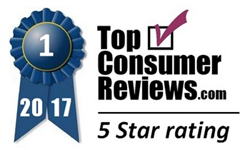 Although there are many candy subscription clubs, none can match the selection and service offered by Candy Club itself.
Overland Park, KS (PRWEB) December 18, 2017
TopConsumerReviews.com recently awarded their highest five-star rating to Candy Club, a market frontrunner among companies offering Candy Club memberships.
Candy is everywhere: from the lobby at the doctor's office to the crystal dish at Grandma's house. From gummies and sours to hard candies and chocolates, candy represents a universally-recognized way to have a treat. Candy Clubs make it possible to get the world's best variety of sweets delivered directly to the home or office - for the customer or for a lucky gift recipient. These clubs can be purchased for a month, six months or longer, extending the tasty surprises as long as one likes.
"Although there are many candy subscription clubs, none can match the selection and service offered by Candy Club itself," stated Brian Dolezal, of TopConsumerReviews.com, LLC. "Candy Club offers a mouth-watering selection of candies; every shipment includes at least 3 candy cups and assorted loose candies, and Candy Club is the only one on the market that lets members customize the candies they receive. They're also the only candy membership that offers a rewards program for purchases, reviews, and shares on social media. Backed by a 100% satisfaction guarantee, every Candy Club subscription is sure to delight. This retailer easily earns our highest ranking among providers of Candy Clubs in 2017."
To find out more about Candy Club and other Candy Clubs, including reviews and comparison rankings, please visit the Candy Clubs category of TopConsumerReviews.com at http://www.topconsumerreviews.com/candy-clubs/.
About Candy Club
Candy Club is the Premiere Candy of the Month Club, bringing the candy store to your door. They take pride in offering members an amazing variety of delicious and differentiated candies, specially selected by their team of candy experts for members' enjoyment, discovery and surprise. Their team selects the most popular, best-loved candies from all over the globe and discover other hidden gems to bring customers a splash of fun and deliciousness. Their goal is to deliver a box of happiness to your door all year round.
About TopConsumerReviews.com
TopConsumerReviews.com, LLC is a leading provider of independent reviews and rankings of hundreds of consumer products and services. From Candy Clubs to Chocolate Clubs and Dessert Clubs, TopConsumerReviews.com delivers in-depth product evaluations in order to make purchasing decisions easier.