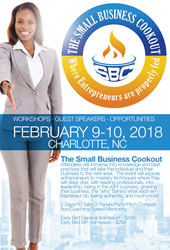 CHARLOTTE, N.C. (PRWEB) December 18, 2017
Two nationally acclaimed business leaders will headline The Small Business Cookout Summit to be held February 9-10, 2018 at The Hilton Center City of Charlotte.
Hosted by the Founders of OnceLogix, The SBC will consist of a two-day experience. Attendees will immerse in knowledge and best practices that will take the individual and their business to the next level.
"We are pleased to announce Trinity Manning, CEO of OnceLogix, and Ty McLaughlin, CFO of OnceLogix, as headline speakers for our first Business and Entrepreneur Summit," said Rod Brown, OnceLogix COO. "Both Manning and McLaughlin will bring unique perspectives on what businesses can do to succeed. This is a do-not-miss event for those who want to hear directly from leaders who are at the forefront of the technology and leadership."
As chief executive officer, Manning heads up a multimillion-dollar software company. In this role, Manning sets the vision and strategy for OnceLogix. Today, more than 450 different companies with thousands of doctors, therapists, counselors, psychiatrists and other professionals are utilizing OnceLogix's breakout software.
At the Summit, Manning will discuss how innovation and technology should do the heavy lifting in business. He will share how OnceLogix transitioned into to a technology powerhouse.
McLaughlin, CFO of OnceLogix is a seasoned financial executive with extensive experience leading national financial organizations in technology and software. With a history of leading and completing business transformations, and a strong discipline in enterprise software models, McLaughlin will share tips on bootstrapping, funding and how to succeed in today's competitive marketplace.
OnceLogix, LLC is a nationally recognized award-winning Software Company in Winston-Salem North Carolina. Over the past 10 years, OnceLogix founders have created several successful, profitable businesses that continue to sustain profitability year after year. In 2016, Inc. magazine ranked our Winston-Salem based company 3,719th on its 35th annual Inc. 5000 list, the most prestigious ranking of the nation's fastest-growing private companies. The list represents a unique look at the most successful companies within the American economy's most dynamic segment – its independent small businesses. After learning that less than 1.5% minority-owned companies were on the list, the founders concluded that they wanted to do something to help with this systemic problem creating The Small Business Cookout.
For more information about the Small Business Cookout and to register, please visit the conference website here: https://www.eventbrite.com/e/the-small-business-cookout-charlotte-nc-tickets-39480601542.