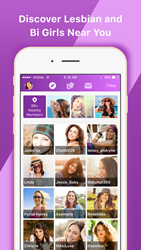 SAN FRANCISCO (PRWEB) December 28, 2017
The 21st century is best characterized by having the freedom of choosing what we want in life and being able to enjoy it. Because lesbian women are allowed to get married in the United States, Australia is also currently doing a survey among its citizens – in October 2017, every Australian received a letter from the government which asks them whether they support lesbian or gay marriage. Therefore, it is clear that things are changing nowadays and some positive news seems to be happening pretty soon. With this trend, a lesbian dating app Lesly has been designed to help lesbian singles to meet each other through the digital world, thereby enhancing their love life in the real world.
Jo L., The Operation Manager of Lesly, has shared her insights with the press during a recent interview. "We all know that no matter you are straight or gay, you can get married in many countries these days, so it seems that equality in this regard is being achieved. But while we were aware of Grindr, which is a popular dating app for gay men, we couldn't help but wonder - how about developing a new Grindr for lesbian singles? That's why Lesly was born," says Jo, "indeed, when we say men and women should be equal, we also mean gay men and lesbian women should have equal resources in terms of online dating."
Statistics show that there are more lesbian and bisexual women than gay and bisexual men. Researchers suggest that this is probably because women are more open-minded. Some women can even be turned on while seeing the sunset or a beautiful flower; some women can be turned on by wearing silk/satin fabric or smelling an exotic fragrance. Some straight women can be become lesbian or bisexual later on in life, as evidenced by Samantha Jones in the most popular TV show in history. There are two better examples in real life: Cynthia Nixon had been with men all her life, and then she met a lesbian and fell in love; Elizabeth Gilbert was married to one man and another, but then she began to date a lesbian. No wonder the need for a good dating app for lesbian and bisexual women is bigger and bigger.
"We belong to a big online dating company which has been in this industry for more than one decade," says Jo, "and gradually, there have been more and more lesbian singles asking us whether we have an app for pink dating, so now it's time for us to say yes because we have Lesly now."
With the development of smart phones, dating apps are becoming much more popular than online dating websites which can only be accessed on a computer. Now you can swipe left or right on the go.
Jessica Q., a member of Lesly, is a bisexual woman from New York. She has kindly shared her experience with the press during an interview as well. "Lesly is a lesbian dating app which gives me opportunities to showcase my fabulous lifestyle by uploading very cool photos. From my experience, I can say that when I upload great photos, I always get more attention from other women who are also using this app. My profile rank very high in search results because my photos are liked by many women - once they've clicked the like button, my profile ranks higher," says Jessica, "if you'd like to get a strong response, throw in some pictures that wouldn't look out of place in a holiday brochure. Who doesn't love the beach?!"
A major study in the UK shows that women in lesbian relationships are happier than women in traditional relationships with men. The main reason is women in lesbian relationships truly understand each other, whereas men and women come from different planets.
Because Lesly has invited a team of experts to contribute to the design of this app, it has become the No. 1 lesbian dating app on the market. Please note that Lesly is for lesbian and bisexual women who are at least 18 years old.
Website: http://www.leslyclub.com/
iOS: https://itunes.apple.com/us/app/lesly-lesbian-dating-chat-app/id1152403579?mt=8
Android: https://play.google.com/store/apps/details?id=com.leslyclubdating