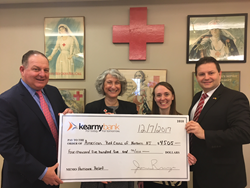 FAIRFIELD, N.J. (PRWEB) December 19, 2017
Kearny Bank employees participated in a recent, bank-wide fundraising initiative to benefit victims of hurricanes Harvey and Irma, both of which struck southern portions of the U.S. earlier this year. In total, employees donated more than $4,000 to the American Red Cross of Northern New Jersey.
Under the one-month initiative, Kearny Bank staff donated $5 to wear jeans to the office on Fridays. The program was established based on multiple offices expressing a strong desire to support those impacted by the two storms.
"The Red Cross is an exceptional organization, one we're proud to support," says Craig Montanaro, President and CEO of Kearny Bank. "Last year we provided a grant, and this year, our employees were eager to respond to a more direct crisis. Tragically, the 2017 hurricane season presented us with perfect opportunities."
Hurricane Harvey hit Houston on August 17, causing 91 fatalities and almost $200 billion in damages. On August 30, Hurricane Irma struck Puerto Rico and then Florida, resulting in 134 deaths and more than $65 billion in damages.
About Kearny Bank
Kearny Financial Corp. is the parent company of Kearny Bank, which operates from its administrative headquarters building in Fairfield, NJ. Kearny Bank has supported the communities it serves since 1884. The bank has assets of $4.8 billion and operates 42 full-service banking offices in northern and central New Jersey, and in Brooklyn and Staten Island, NY. Kearny Bank was recently named to Forbes' list of the 50 Most Trustworthy Financial Companies.