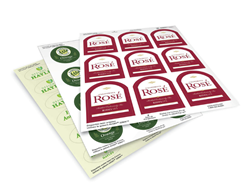 CNC-cutters can cut to virtually any shape. Stickers can be die-cut to individual pieces, or multiple stickers can be kiss-cut onto a single sheet.
CHICAGO (PRWEB) December 21, 2017
Sunrise Hitek now print professional quality stickers and labels on a wide variety of both paper and synthetic materials. Customers can choose from paper, vinyl, polyester, plastic, and metallic silver. They also offer white, clear, silver, and holographic finishes with opaque white as an option as well. Another feature they have is kiss-cutting and die-cutting to any shape from an electronic die-line. Sunrise is also a G7 Qualified Master Printer which ensures superb color accuracy and consistency.
Paper stickers are optimal for pieces such as seals, giveaways, and stickers for children. Paper is great for giveaways because it is the most economical material and people remember a giveaway. A Time magazine article highlighted the many benefits of freebies; they go on to state: "Getting a freebie related to the product prompted them to talk about it 15% more, while coupons and rebates didn't make a difference". Nowadays consumers often voice their opinions of products on social media and a freebie is a great way to open doors for communication.
Digital die-cutting and kiss-cutting are another option when creating custom stickers. Sunrise's digital CNC-cutters can cut to virtually any shape. Stickers can be die-cut to individual pieces, or multiple stickers can be kiss-cut onto a single sheet. Shapes can be as simple as a circle for an envelope seal or as complicated as a snowflake, star or any custom logo! Kiss-cutting allows for even more intricate designs.
Sunrise Hitek also print on a wide variety of materials in addition to paper. The most common of these is adhesive vinyl. Vinyl is tear-resistant and can work in different weather environments. Vinyl is a great vehicle for bumper stickers, laptops, tablets, and phones, as well as for anything in a cold environment like a refrigerator or freezer. Vinyl comes in different adhesive strengths to accommodate different surfaces. There is low-tack for the piece to be easily removed without residue, there is repositionable for pieces that need to be put up precisely or removed once or twice, and high-tack permanent for labels that stay put forever.
Another overlooked adhesive is static-cling. Static cling isn't technically an adhesive; it is affixed with a little bit of water and static electricity does the rest. Static clings are perfect for glass, think car windows and store windows and doors. Clings can be printed on white material with full color and be affixed to the inside of the glass facing out, protecting it from the elements. They can also be printed on clear material with opaque white ink for opacity, or without for a transparent look.
About Sunrise Hitek Group, LLC.
Sunrise Hitek is an Inc. 5000 company established in 1988 and employs the most advanced equipment and technology, such as G7-certified HP Indigo and UV flatbed presses, laser engraving, and digital die-cutting, to create best-in-class color printing, short-run packaging, P.O.P. retail displays, and signage products. A privately-owned enterprise, the company is based in Chicago and sells products worldwide.