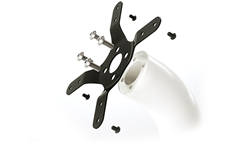 We're excited to be able to extend the viability of our kiosk and digital touchpoint designs beyond just iPads and tablets
WATERLOO, Ontario (PRWEB) December 19, 2017
Unlike Armodilo's VESA tablet enclosure products, the standalone VESA Adapter gives users an opportunity to combine any VESA-compatible display with Armodilo's award-winning stand designs.
"We're excited to be able to extend the viability of our kiosk and digital touchpoint designs beyond just iPads and tablets," said Iles Guran, Founder.
Now available at http://www.armodilo.com for only $29, the VESA Adapter is made out of high grade aluminum, anodized in black for a clean finish. All required hardware to attach the accessory to Armodilo stands as well as VESA compatible devices is included.
Armodilo standalone VESA adapters are compatible with a number of Armodilo's award-winning tablet stands, including the Sphere™, the 3-in-1, Floor, Surface, Tilt and Wall stands. The VESA Adapter can also be combined with the ArmoTwist™ add-on accessory to provide an unparalleled user experience from any angle.
-=-=-
Armodilo Display Solutions is a multiple award-winning tablet display manufacturer located in Ontario, Canada. With a variety of tablet display stands and accessories for trade show, event, retail and corporate markets, Armodilo sets itself apart by creating highly refined products for discerning brands around the world.
For more information about Armodilo, contact:
Armodilo Display Solutions
1-800-975-5946