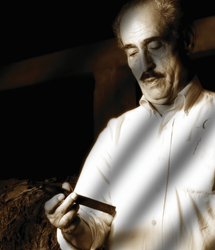 MIAMI LAKES, Fla. (PRWEB) December 18, 2017
On Saturday, December 16, Gilberto F. Oliva Sr. passed quietly in the company of his wife, children and grandchildren in South Miami Hospital. He was 86 years old.
Gilberto F. Oliva was the patriarch of the Oliva Cigar Family. He was born to a second generation tobacco grower and began his tobacco odyssey in Cuba. By his late teens Gilberto had expanded from the small family farm to tobacco trading. Like so many others, Gilberto saw his young business seized by the Cuban dictatorship upon which he fled to Nicaragua and was among the first pioneers of tobacco cultivation in the country.
As had happened in his homeland, political unrest forced Gilberto to abandon the Nicaragua. The years that followed found Gilberto growing tobacco all over the world. From Mexico to Panama to the Philippines, he never relented on his dream to establish a successful tobacco growing operation.
By the early 1990's Gilberto was running a cigar factory in Moroceli, Honduras. As the U.S. began to enjoy a premium cigar renaissance, Gilberto's children established, with his guidance, a small cigar factory in Nicaragua. As the company grew, Gilberto returned to Nicaragua to re-establish his tobacco growing operations. Together the cigar and the tobacco growing companies grew. Gilberto's operation became among the largest in Nicaragua and the cigar factory used his tobacco to make critically acclaimed cigars. In 2014 the Oliva Serie V Melanio was recognized by Cigar Aficionado Magazine as the #1 Cigar of the Year.
Gilberto is succeeded by his wife, five children and fourteen grandchildren.
Arrangements to be announced separately.