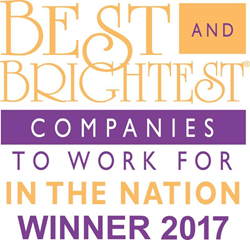 COMMERCE, Mich. (PRWEB) December 19, 2017
Nuspire, a state-of-the-science managed network security service provider for some of the largest and most distinctive companies around the world, announced today that it was awarded the 2017 National Winner for the Best and Brightest Companies to Work For by the National Association for Business Resources. Nuspire CEO Saylor Frase made the announcement.
The Best and Brightest Companies to Work For Program identifies and honors companies from across the nation based on their communication, work-life balance, employee education, diversity, recognition, retention and more. Winners of the competition deliver exceptional human resource practices and have a remarkable commitment to their employees. Nuspire has also been recognized for the Metro Detroit Best and Brightest Award in 2017, 2016, 2015 and 2011.
"When people are financially invested, they want a return; but, when people are emotionally invested, they know they are part of something bigger and are impacting the world in ways bigger than themselves and they want to contribute. That is the culture and community at Nuspire," said Frase. "It is critical to meet the complex and growing challenges in cyber security, which is the core of Nuspire's success. This award is an appreciated validation for Nuspire today and an inspiration for the future."
Nuspire is currently seeking skilled network engineers, national account executives, inside sales, application developers, project managers and more. To view current job applications and to become part of an exciting work environment, visit the career page at https://nuspire.com/company/careers/
About Nuspire
Nuspire is a state-of-the-science, managed network security service provider with nearly two decades of industry experience, providing network management, monitoring, and security services for some of the largest and most distinctive companies in the world. Beyond the classic monitor and support models, Nuspire utilizes big data, cloud-driven technologies, custom-built and integrated threat intelligence, and human analytics to meet the managed security needs of enterprise organizations with geographically dispersed networks. Solutions are delivered with service level commitments for network security, performance and compliance. With its custom-built monitoring systems, a team of experts available 24/7/365 and a deep security knowledge and expertise, Nuspire is the benchmark for managed security services and maintains unparalleled cybersecurity technologies deployed globally. To learn more, visit http://www.nuspire.com