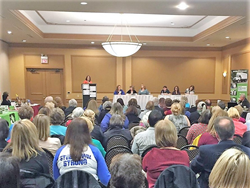 PITTSBURGH (PRWEB) December 19, 2017
The Pittsburgh Chapter of NAPO (National Association of Professional Organizers) is holding its annual Organizing Symposium event on Thursday, January 11, 2017, from 8:00 a.m. to 12:30 p.m. The event, The Art of Letting Go: Organizing Tips and Tricks from the Pros, is an opportunity for the Pittsburgh community to get information to help them organize their homes, paper, photos, and schedules. This year's event will focus on minimalism, procrastination, major life transitions, residential organizing, downsizing and decluttering, as well as time management and productivity tips. The keynote speaker is James Lott, Jr, long-time NAPO member, author and host of the Super Organizer Show podcast. Lott says his specialty is, "helping people organize their homes, offices, and lives in a way that is uniquely theirs." It promises to be a fun and engaging morning.
"This event is designed to provide practical and expert tips on how to get organized and gain access to valuable resources in the Pittsburgh area," explained Ed Sickmund, Director of Marketing for the Chapter. "We are highlighting our members, Professional Organizers and Productivity Experts, and their knowledge and expertise. They will be offering their very best tips on downsizing, decluttering, and letting go of possessions in a positive and productive way, and organizing best practices for the home and office."
Sandra Lane, Chapter President, commented, "There will be panel discussions and time to visit with our NAPO Pros and the best companies in the area that offer services such as closet design and installation, junk pick up, storage, home design, auction/estate sales, photo organizing and storage at the event." She continued, "Raffle prizes will be offered by the vendors and sponsors."
Companies participating in this year's event to help individuals and families get organized, are Ikea, Closet Factory, Everything But the House, MyWay Mobile Storage, Auction Your Possessions Today, All Ways Moving, Service Master, Allegheny Valley Transfer, College Hunks Hauling Junk, Forever, Domestics, James Lott Jr., Global Heath Education Outreach, Green Home Solutions, Eisner Law, NAPO Authors, Steri Clean, Treasure House Fashions, NAPO Authors, Unlock Your History and others will be available to provide product and service information.
Visit http://www.NAPOpittsburgh.org/AnnualSymposium to register for the event.
The event will be held Thursday, January 12, 2017, from 8:00 a.m. to 12:30 p.m.
at Embassy Suites, 550 Cherrington Parkway, Coraopolis, Pennsylvania, 15108.
Admission is $15 if pre-registered, $25 at the door. Pre-registration ends January 8, 2018.
Contact: Ed Sickmund, NAPO-Pittsburgh Marketing Director, 412-427-5719