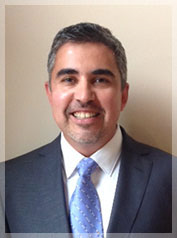 EDEN PRAIRIE, Minn. (PRWEB) December 21, 2017
Patients with sensitive teeth in Eden Prairie, MN, and other symptoms of receding gums can now receive a $99 examination from board-certified periodontist Dr. Andres R. Sanchez. If further treatment is needed, this examination fee will be applied to the patient's gum recession treatment.
Gum recession affects millions of Americans and is often seen solely as an aesthetic issue. However, receding gums could lead to other problems, including the possibility of tooth loss. If gum recession occurs due to periodontal disease, the diseased tissue should be properly treated before the patient receives treatment for gum recession. Common symptoms of gum recession include the appearance of elongated teeth, exposure of the tooth roots, sensitive teeth or tooth loss. Dr. Sanchez urges patients with sensitive teeth in Eden Prairie, MN, to schedule a gum recession consultation for the minimally-invasive Pinhole® Surgical Technique (PST™).
PST is a scalpel-free procedure that reduces gum recession by adjusting the gum tissue back over the exposed surface of the tooth roots using a pin-sized hole and specialized tools. These tools are used to gently manipulate the gum tissue and move it into the desired position without scalpel incisions or sutures. Results can be seen immediately after the procedure is performed. Patients who receive this procedure experience minimal swelling, bleeding and discomfort. Post-procedural recovery is also quick and associated with a very low risk of complications. Due to the speed with which the Pinhole Surgical Technique is performed, multiple areas can be treated during one visit, instead of requiring the patient to make multiple treatment appointments.
Dr. Sanchez encourages patients with sensitive teeth in Eden Prairie, MN, or other common symptoms of receding gums to schedule a $99 examination. Appointments can be arranged by calling PerioWest at 952-479-4705.
About the Doctor
PerioWest is a periodontal practice offering personalized dental care for patients in Eden Prairie, MN and the Twin Cities areas. Dr. Andres R. Sanchez received his Certificate & Master's Degree in Periodontics from the prestigious Mayo Clinic in Minnesota in 2004. He is a Board-Certified periodontist and a Diplomate of the American Board of Periodontology. In addition, Dr. Sanchez has been involved as a primary author in more than ten scientific papers published in major periodontal and implant dentistry journals. To learn more about Dr. Sanchez and the services he provides, please visit his website at http://www.periowestmn.com or call 952-479-4705.