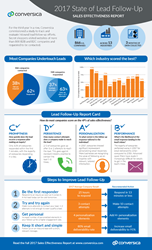 It appears that few companies can be consistently great at thorough lead follow-up, said Alex Terry, CEO of Conversica.
FOSTER CITY, Calif. (PRWEB) December 19, 2017
Conversica, the leader in conversational AI for business, today announced the release of the 2017 edition of its [Sales Effectiveness Report on Lead Follow-Up. The research report reveals that many sales teams are missing best-practice targets for following up effectively with incoming inquiries and that an increasing number of companies completely ignore their most valuable sales leads.
An abundance of research demonstrates the importance of what Conversica describes as the "Four Ps" of successful lead engagement: promptness, personalization, persistence and performance. The goal of Conversica's ongoing research is to determine the extent to which companies are putting these aspects into practice. To do this, researchers made multiple visits to the websites of 866 companies across 13 industries and asked to be contacted, presenting themselves as the hottest of sales leads. They found that:

Almost four out of ten (38 percent) of the companies contacted did not respond at all to a direct and specific sales inquiry. This is worse than last year's performance despite improvements in available technology.
Of those companies that responded, about two-thirds (63 percent) gave up after only one or two tries, a number similar to the prior year.
Only 13 percent of responding companies did so within five minutes—a 29 percent backslide in promptness compared to last year's findings.
Companies continued to show improvement in personalization, with more than 72 percent of companies achieving an "A" grade in the category.
Many industries stood out as needing improvement – seven out of 13 industries researched had no companies receive an overall "A" grade.
"Interestingly, many companies that performed well in previous years performed poorly this year and vice versa," said Alex Terry, CEO of Conversica. "It appears that few companies can be consistently great at thorough lead follow-up. This inconsistency is why they must invest in strategies to ensure consistent and effective lead follow-up to maximize return on their marketing spend."
Automotive industry continues to lead the pack
For the third year running, the automotive industry performed highest in the promptness category, with 28 percent of dealers following up with incoming leads within five minutes. This was followed by real estate (26 percent) and education (23 percent).
The automotive industry also did the best job of persistence: 43 percent of dealers attempted to contact leads more than eight times. This is particularly impressive given that the majority of companies surveyed across industries (63 percent) gave up after two or fewer attempts to contact the lead.
More than half of industries surveyed had zero 'A' grades
Seven out of 13 industries investigated had no companies that received an overall "A" grade, including brokerage/investment, insurance, real estate, advertising/marketing, manufacturing, media/publishing, and HR/recruiting.
In positive news, researchers measured a significant increase in the percentage of companies receiving an "A" in personalization this year, demonstrating that companies have taken action to send more personalized and customized responses to leads. Top-ranking industries include advertising/marketing (88 percent), automotive sales (83 percent) and technology (77 percent).
To help more companies improve, the report includes tips and best practices for improving performance in each of the four measures of effective lead follow-up.
Summing up the report findings, Terry concluded, "Many top-scoring companies have turned to automation tools to reach out to leads, personalize the message and improve response rates. Automation provides the consistency to fully perform in each metric and engage valuable leads at a scale that is impossible for a human sales team alone."
Access report and upcoming webinar
To obtain a copy of Conversica's 2017 Sales Effectiveness Report on Lead Follow-Up, visit [here. The report includes this year's findings, as well as comparisons with results from previous editions of the research.
To learn more about this research and hear insights from sales and marketing luminaries Nancy Nardin of Smart Selling Tools and Matt Heinz of Heinz Marketing, register to attend a January 23 complimentary webinar entitled "Lead Follow-up FAILURE. Sales? Marketing? Discuss" at http://con.ai/LeadFollowup2017.
To request your company be included in a future report, visit http://www.conversica.com/4ps-assessment-request.
Survey methodology
Conversica commissioned researchers to submit specific sales inquiries to 866 companies from 13 industries, covering both business-to-consumer (B2C) and business-to-business (B2B). Each company was contacted at least twice, on different days of the week and at different times, to maximize the chance for a positive score. Companies were selected by compiling rankings from sources such as Forbes, Bloomberg and industry-specific publications. This research was conducted over a one-month period, using multiple secret shopper personas to solicit contact from the companies surveyed.
About Conversica
Conversica is the leader in AI-powered business conversations and the only provider of AI-driven lead engagement software for marketing and sales organizations. The flagship Conversica® AI Sales Assistant helps companies find and secure customers more quickly and efficiently by automatically contacting, engaging, qualifying and following up with leads via natural, two-way conversations. Used by more than 1,000 companies worldwide, Conversica's sales assistants are built on a proven AI platform integrating natural language processing (NLP), natural language generation (NLG), and machine learning (ML) capabilities and engage prospects over multiple communication channels and in multiple languages. Recognized by Gartner as a Cool Vendor, Conversica is a portfolio company of Providence Equity, Kennet Partners and Toba Capital and is headquartered in Foster City, California.
To learn more, visit conversica.com and follow the company on Twitter, LinkedIn and Facebook.