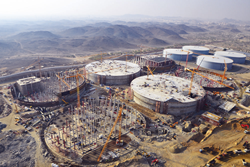 This project was completed to ensure a reliable supply of drinking water during peaks in demand, when pilgrims travel to Jeddah, and disruptions in the normal flow when our desalination plants are being overhauled.
EAST SETAUKET, N.Y. (PRWEB) January 10, 2018
When Saudi Arabia needed a solution to protect the massive tanks of the new Briman Strategic Water Reservoir – where millions of gallons of water are stored – PENETRON crystalline technology was chosen to waterproof the concrete structures that were completed in December 2017.
As a country with virtually no rainfall and quickly shrinking groundwater aquifers, Saudi Arabia pays close attention to water storage issues. Jeddah, with over four million inhabitants, is the Kingdom's second largest city and the gateway to Mecca and Medina, Islam's holiest sites and destinations for over two million pilgrims every year.
"The city was facing severe bottlenecks in the water distribution system, particularly during maintenance of the desalination plants and the surges in demand associated with the pilgrimages to the holy sites," explains Luay Al-Musallam, CEO of the National Water Company (NWC).
The Briman Strategic Water Reservoir project was completed by the NWC at a cost of approximately US$200 million (SAR 753.5M) to meet the growing needs in Jeddah. The first phase of construction began with a capacity of 1.5 million m3 of water; the second and third phases added a further 4.5 million m3, to bring the total storage of water for Jeddah to 6 million m3.
The reservoir system now comprises 11 circular tanks, each 120 m (400 feet) in diameter and 18 m (60 feet) high. All tanks are hydraulically linked, providing a storage volume of over 2.06 million m3 (544,195,000 gallons) of drinking water — the equivalent of 800 Olympic-sized swimming pools.
"The Briman Reservoir is the world's largest drinking water storage facility and is even noted in the Guinness World Records," adds Luay Al-Musallam.
With project guidelines specifying a 100-year design life for the water tanks, reliability of the structural design was a fundamental challenge, especially since water silos of this size had never been constructed anywhere in the world. Subsequently, circular water tanks with a tensioned strand wrapping system were approved as the final design.
This tank-building method ultimately comprised a total of 2,805 tons of strand for horizontal tendons (with 13, 19 and 22 strands), 800 tons of Freyssibar (pre-stressing system) for vertical post tensioning, and HDPE and PP ducts as additional protection for the internal tendons. The Briman Reservoir is currently the largest internally post-tensioned circular concrete potable water reservoir in the world.
"This project was completed to ensure a reliable supply of drinking water during peaks in demand, when pilgrims travel to Jeddah, and disruptions in the normal flow when our desalination plants are being overhauled," says Luay Al-Musallam.
With each tank holding 188,000 m3 (49,670,000 gallons) of water, a durable and robust waterproofing solution for the concrete reservoirs was a priority.
PENETRON, a surface-applied, integral crystalline waterproofing material was employed, along with PENECRETE MORTAR, used with PENETRON for filling non-moving cracks and construction joints, and PENEPLUG, a rapid-setting, cementitious compound that stops active leaks (even under high hydrostatic pressure). This system ensures the durability and impermeability of the concrete used for the new tanks.
PENETRON crystalline materials are applied topically to both fresh and existing concrete structures to eliminate cracks, voids and fissures – and provide the concrete with a self-healing capability. Completely non-toxic, with no volatile organic compounds (VOCs), these crystalline-based products provide the highest standards of environmental and ecological compliance and are ideal for potable water projects such as the Briman Strategic Water Reservoir.
The PENETRON Group is a leading manufacturer of specialty construction products for concrete waterproofing, concrete repairs and floor preparation systems. The Group operates through a global network, offering support to the design and construction community through its regional offices, representatives and distribution channels.
For more information on PENETRON waterproofing solutions, please visit penetron(dot)com or Facebook(dot)com/ThePenetronGroup, email CRDept(at)penetron(dot)com, or contact the Corporate Relations Department at 631-941-9700.