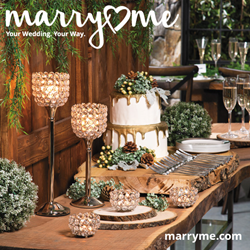 "At Marry Me, you can shop the latest wedding trends or get inspired to create your own one-of-a-kind celebration," said Brian Moen, Chief Marketing and Merchandising Officer
OMAHA, Neb. (PRWEB) January 11, 2018
Oriental Trading Company, the nation's largest direct retailer of value-priced party supplies, arts and crafts, toys and novelties, has launched a new wedding brand to help couples create memorable celebrations from engagement parties and bridal showers, to the wedding ceremony and reception. Marry Me (http://www.marryme.com/) combines a wide variety of on-trend wedding décor, gifts, accessories and supplies with a wealth of inspirational content and DIY projects to help make the wedding planning process easier and more affordable.
Marry Me customers can shop the latest wedding themes, styles and trends across multiple categories, including bridal party gifts, tableware, centerpieces, invitations, and reception and ceremony décor. The catalog and website also feature more than 3,000 personalized items in addition to inspirational ideas, activities and shoppable DIY projects that help guests customize their wedding celebration. Plus, Marry Me and Oriental Trading enjoy one shared shopping cart, making checkout easy and efficient for customers.
"At Marry Me, you can shop the latest wedding trends or get inspired to create your own one-of-a-kind celebration," said Brian Moen, Chief Marketing and Merchandising Officer at Oriental Trading Company. "Whether you're looking for theme and color ideas or shopping for centerpieces and cake accessories, you're sure to find everything you need to make your wedding, your way at a price you'll love."
Marry Me's Big Day Giveaway
To celebrate the launch of Marry Me, the site is giving away $1,000 shopping sprees every month. Entries are limited to one entry per person per month, and winners can use the money to shop Marry Me's large assortment of trending wedding supplies, décor and accessories. To enter, visit marryme.com/bride.
About Marry Me
Marry Me (http://www.marryme.com/) is the online wedding destination for anyone looking to create the wedding of their dreams at any budget. They offer a wealth of inspirational content including ideas, planning tools and DIY projects. Plus, thousands of value-priced products from the engagement party to ceremony and reception supplies can help you create unforgettable events. Marry Me knows how important every detail is for your big day and believes in helping you make the experience unique to you. This is why they offer a variety of themes, style choices and price points across all categories, including: tableware, centerpieces, favors and décor. From traditional designs, to the latest on-trend styles, they carry it all. An extension of Oriental Trading Company, Marry Me is focused on providing the inspiration and solutions to help you create your wedding, your way. For more information, call 877-513-0383 or go to marryme.com.
About Oriental Trading Company (A Berkshire Hathaway Company)
Oriental Trading Company (http://www.orientaltrading.com/) is the nation's largest direct retailer of value-priced party supplies, arts and crafts, toys and novelties, and a leading provider of teaching supplies and affordable home décor and giftware. Recognized as one of the Top 100 Online Retailers, Oriental Trading Company employs approximately 1,700 employees and offers more than 40,000 products to individuals, teachers, schools, churches, businesses and nonprofits. From pink flamingos and grass skirts to holiday decorations and craft supplies, Oriental Trading Company makes the world more fun! orientaltrading.com.