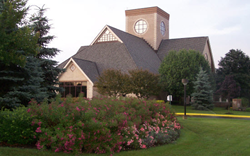 Applying our expertise to help nonprofit organizations that otherwise might not be able to afford protection is why we are all so passionate.
WEST PALM BEACH, Fla. (PRWEB) December 20, 2017
Security 101, a leading security systems integrator, today announced 15 nonprofit winners for the 6th Annual Gift of Security. The corporate-giving initiative donates $10,000 worth of integrated security services from locally owned Security 101 offices and equipment from program product partner, Axis Communications, to each deserving nonprofit. All integrated security solutions provided are completely free for the winners.
Nonprofit winners are selected by the public through an online voting poll. This year nearly 70,000 votes were cast to determine the 2018 Gift of Security award winners, which include:
Charleston, S.C. – Carolina Youth Development Center provides prevention, intervention and treatment programs to 1,200 vulnerable children and families
Charlotte, N.C. – Ada Jenkins Center empowers people to break the cycle of poverty through the integration of health, education and human services
Columbus, Ohio – University Circle is a non-profit private school chartered by the state for innovative programs for toddlers through high school
Dallas – Autism Treatment Center helps people with autism and related disorders to learn, work, play and live in the community
Detroit – St. Thomas a' Becket is a Canton-based Catholic community serving more than 10,000 registered parishioners
Hampton Roads, Va. – For Kids is one of the largest providers for homeless families in Virginia, assisting with housing programs and extended family services
Jacksonville, Fla.– Seamark Ranch provides a safe home, educational opportunities and childcare programs for children who have lost support of a family
New Jersey – The Arc of Monmouth improves the lives of persons with intellectual and development disabilities through advocacy, services and support
Orlando, Fla. – Pace Brantley School, a non-profit school, focuses on students needing individual attention, specialized teaching and the rebuilding of self-esteem
Phoenix – Sojourner Center, a domestic violence service organization provides emergency shelter, transitional housing, education and other services
Pittsburgh – Pittsburgh Action Against Rape is dedicated to assisting victims of sexual abuse and ending sexual violence in the community
Raleigh, N.C. – Durham Rescue Mission provides safe shelter for the homeless. Clients have their basic needs met with food, safe shelter and clothing
Richmond, Va. – Real Life assists individuals who have been impacted by incarceration or those battling addiction to overcome barriers and obstacles
San Diego – Twin Hills Youth & Recreation Park provides fields and facilities for youth baseball and softball leagues
Salt Lake City – The Christmas Box International works to prevent child abuse and improve the quality of life for abused or neglected children and young adults
Since its beginning, the Gift of Security has provided integrated security solutions to nearly 30 organizations. The most challenging part is getting organizations to understand the legitimacy of the giving program and to nominate themselves. Local offices are privately owned and under no obligation to participate in the Gift of Security. In fact, employees at participating local offices often donate their time during the work week to execute the program and time on the weekend for installations.
"We wholeheartedly believe in giving back to the communities where we do business and several of the winners were subject to recent security incidents," said Steve Crespo, Security 101's chief executive officer. "Applying our expertise to help nonprofit organizations that otherwise might not be able to afford protection is why we are all so passionate. Our goal is to have all 37 office locations participating in the program."
About Security 101
Security 101 http://www.security101.com/ is a global security systems integrator that helps businesses mitigate threats and vulnerabilities to protect its people, property and profits. Harnessing the capability of our certified systems engineers, expert program managers, best-in-class products, and specialized operations software, Security 101 is disrupting the industry and solving complex challenges with uniform security programs that adhere to regulatory compliance specifications, and deliver true standardization across multi-site organizations. From system design, engineering, and installation — to servicing electronic security systems, Security 101 creates value for our corporate customers with fanatical customer service and cost saving solutions. For more information, please visit http://www.security101.com.