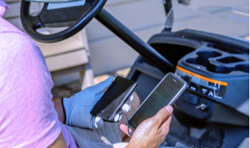 "Our station is perfect for hospitality industries like golf courses," explains Yatra founder Roy Sharda. "It can be used anywhere on the property, takes up very little room, and provides members with the peace of mind of keeping their mobile devices with them while they charge."
CHICAGO (PRWEB) December 19, 2017
UNiCHARGE's versatile, portable system makes it easy to securely and quickly charge mobile devices—such as cell phones and fitness trackers—while dining or on the green.
"Our station is perfect for hospitality industries like golf courses," explains Yatra founder Roy Sharda. "It can be used anywhere on the property, takes up very little room, and provides members with the peace of mind of keeping their mobile devices with them while they charge."
UNiCHARGE™ Highlights:

Custom Branding Options – Fully customize and display company logos and designs on the illuminated UNiCHARGE system.
Compact – Fits easily on countertops or host stands. Each charging system holds 8 ultra-slim power banks for multi-customer use.
Universal – Each power bank comes with built-in detachable Lightning and Micro USB cables, individually equipped with USB ports permitting replacement as technology changes. 
Convenient – Allows customers the peace of mind to keep their devices with them while charging on the go
Quick Charge – UNiCHARGE™ power banks are equipped with 8, 4000mAh lithium polymer batteries that power the iPhone or Android device from 0-70% in 30 minutes.
Theft Protected – Each charging station uses Luna Pulse Technology to charge each individual power bank, therefore allowing it to only be charged while resting in the base station. GPS technology can also be used in each power bank unit.
Battery Superiority & Cable Durability—Yatra has partnered with Intertek—a global leader in R&D quality control—to test product quality.
UNiCHARGE™ completely sold out of its first run after debuting at the National Restaurant Association's annual expo in May and is already gaining national attention in the restaurant and lounge markets of Las Vegas, New York City, and Chicago. It can be found at such fine dining establishments as STK Steakhouse, Prime and Provisions, and Chicago Cut Steakhouse.
For samples or additional information, please visit http://www.shopyatra.com or contact brooke(at)veteranpr(dot)com.