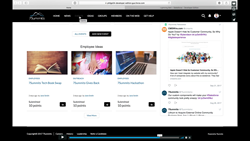 Our new Employee Digital Workspace means customers can launch their employee intranet up in short order. Organizations can start with the fundamental features needed for all employee intranets, then test and learn and decide how far they want to take it.-- John Price, SVP Product Management
MILWAUKEE (PRWEB) December 19, 2017
Today, 7Summits announced that its Employee Digital Workspace is now available on the Salesforce AppExchange. The employee community template creates a highly collaborative environment, tapping into the collective power of the entire organization. With Employee Digital Workspace, employees have improved access to expertise across the enterprise. Best of all, the Employee Digital Workspace is a pre-built, pre-configured solution that can be deployed quickly to deliver strong results sooner.
Employee Digital Workspace boasts a rich feature set including custom theming, onboarding flow, video gallery, enhanced member directory, employee news, ideation, events management and much more.The Employee Digital Workspace serves as a foundation for organizations that require specialized solutions, saving their clients time and money.
"Our new Employee Digital Workspace means customers can launch their employee intranet up in short order," said John Price, SVP Product Management for 7Summits. "Organizations can start with the fundamental features needed for all employee intranets, then test and learn and decide how far they want to take it."
This pre-configured Lightning Bolt solution creates collaborative experiences, connects employees and reduces silos across organizational barriers. Businesses can achieve better ROI by:

Decreasing onboarding time for new employees
Improving enterprise knowledge sharing and collaboration
Consolidating disparate corporate systems into a single point of engagement
Reducing overall communication costs
7Summits' Migration Factory allows their customers to safely migrate legacy portals and intranets into their new Lightning Bolt solution. Strategic services and customization create an even more meaningful solution, ensuring key business challenges are addressed and the community is aligned with business drivers.
"Companies need to be able to quickly create and deploy industry-specific experiences that engage customers and partners, all connected to CRM," said Mike Micucci, SVP and GM, Product, Salesforce Community Cloud. "By leveraging the power of Salesforce Lightning Bolt, we're empowering a broad ecosystem of partners to package their expertise into new solutions that accelerate our customers' time to market."
Learn more about 7Summits Employee Community Solutions, or schedule a demo to see the Employee Digital Workspace in action.
About Salesforce AppExchange
Salesforce AppExchange, the world's leading enterprise cloud marketplace, empowers companies to sell, service, market and engage in entirely new ways. With more than 4,000 solutions, 5 million customer installs and 70,000 peer reviews, it is the most comprehensive source of cloud, mobile, social, IoT, analytics and artificial intelligence technologies for businesses.
About Salesforce Lightning Bolt
Salesforce Lightning Bolts are partner solutions built on the Salesforce Lightning enterprise application framework. Bundling apps, business processes and communities into one complete package, Lightning Bolts empower companies to accelerate the creation of communities, portals and customer-facing websites. Leveraging the deep industry knowledge of the Salesforce partner ecosystem, each Lightning Bolt is curated for a specific industry and business process.
Additional Resources

Salesforce, AppExchange and others are among the trademarks of salesforce.com, inc.
About 7Summits
7Summits Inc. is an award-winning online community solutions provider, guiding companies to engage their customers, partners and employees to grow their business and become more fully networked enterprises. 7Summits creates business solutions that deliver top line revenue growth and bottom-line productivity improvements. As a strategic partner of Fortune 500 companies, 7Summits has launched over 230 communities and won 28 design awards, including Salesforce Partner Innovation Award for Community Cloud. Other honors include Forrester Groundswell Award, Gartner "Cool Vendor" in Tech Go-to-Market, and is noted as Multi-Platform Partner in Gartner's Market Guide for Enterprise Social Networking Applications. 7Summits is headquartered in Milwaukee, Wisconsin with an extended presence in Chicago, Atlanta, New York, Denver, Washington DC, California, Seattle, Michigan and Ohio. For more information, visit 7SummitsInc.com or follow the conversation on Twitter (@7SummitsInc).