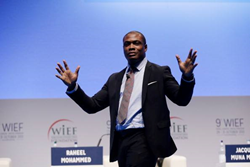 Start a social enterprise in Africa to empower youth; not another non-profit.
NEW YORK (PRWEB) December 19, 2017
Taa Wongbe, Liberian Entrepreneur, Advocate, and Philanthropist, in a recent interview on the Ten Thousand Africans podcast, shared his expert advice for Africans and those who work in Africa: do not start another non-profit – start a social enterprise.
Speaking on the Ten Thousand Africans podcast, Taa shared that social enterprises are more impactful and sustainable, and the youth of Africa is the best investment for the future of Africa. He advised that those coming to Africa should consider the social enterprise path instead of starting another non-profit.
Having experienced the devastation of the civil war and seeing and living in poverty, Taa developed a passion for development, especially empowering youth and women. After returning to Liberia, in 2007, for the first time since fleeing the country to become a refugee in Guinea, Côte D'Ivoire and then the United States several years later, he quickly discovered the gaps in development projects across Africa. While many programs were being implemented with great intentions, because they were funded and operated by Western actors, they lacked local context. These gaps led to program failure or limited impact.
Analyzing these gaps and building on his global experiences in a variety of businesses, including IT and management consulting, in 2008 he co-founded The Khana Group, with a focus on positively transforming and impacting lives by working with impact investors and development partners to develop sustainable solutions across Africa. The Khana Group achieves this by conducting research to inform programming decisions and developing strategies for social impact investors to achieve maximum impact. The Khana Group works with organizations such as the Acumen Fund, McKinsey, IFC, Gallup, Goldman Sachs, Dalberg, USAID, Coca-Cola, the World Bank and many others, who have challenges reaching the communities they work with.
After nine years of his business' success collecting critical data in the most difficult to reach communities, Taa's African born and raised company is able to tell the stories and inform policies and programs that change lives of people in Africa. The Khana Group now has offices in Liberia, Ghana, Nigeria and the United States, and has worked across 18 countries in Africa.
As CEO, Taa is responsible for all aspects of the firm's strategy, corporate positioning, branding, business development, staffing and operations across all four offices, offering insights to entrepreneurs, investors, governments, and other stakeholders about the future of Africa, at the intersection of business and social impact. Taa sees a bright future for Africa, and calls upon the global community to invest in developing opportunities for youth through social enterprises to contribute to Africa's development.