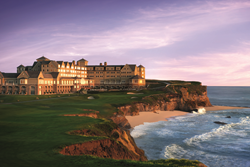 HALF MOON BAY, Calif. (PRWEB) December 21, 2017
The Ritz-Carlton, Half Moon Bay – the San Francisco Bay area's premier luxury oceanfront resort – invites The Ritz-Carlton Rewards, Marriot Rewards and SPG Rewards members to embrace the elements of the coast with its "Global Cuisine Series" – an exclusive gourmet experience featuring interactive culinary classes and wine-paired luncheons with renowned California chefs. Returning for its second year in 2018, the exclusive one-day package will be an intimate experience limited to 16 guests and offered one weekend per month.
Each retreat will consist of hands-on cooking classes in which guests will use locally sourced ingredients to craft dishes alongside the visiting chef. Guests will then have the opportunity to sit down with the guest chef and enjoy their meal in the intimate Library. Custom wine pairings from the resort's sommelier will complete the experience.
In addition to the interactive activities, the guest chef will showcase two signature dishes on the Navio tasting menu in collaboration with Chef de Cuisine Jason Pringle for Friday night along with a pop-up station at Navio's acclaimed Sunday Brunch. Guests may opt to reserve these experiences separately from the package.
The series will commence with visiting chef Tanya Holland of Brown Sugar Kitchen on the weekend of January 26, 2018. Holland is currently competing in the 15th season of Bravo's "Top Chef"and is known for her role as a host and soul food expert on the "Melting Pot" series on Food Network. She is also the owner of the famous Oakland-based restaurant, Brown Sugar Kitchen. Featuring the best of soul food, Brown Sugar Kitchen brings together Holland's passion for entertaining friends and family with her cross-cultural background. With celebrated dishes such as Holland's Buttermilk Fried Chicken and Cornmeal Waffles with Apple Cider Syrup and savory Creole Shrimp with Cheddar Grits, guests can expect to embark on a culinary journey with a touch of modern Southern flair. Additional chefs will be announced in the New Year.
The 2018 Global Cuisine Series schedule is as follows:

Friday, January 26 – Sunday, January 28 – Tanya Holland of Brown Sugar Kitchen
Friday, February 23 – Sunday, February 25
Friday, March 23 – Sunday, March 25
Friday, April 20 – Sunday, April 22
Friday, May 18 – Sunday, May 20
Friday, June 22 – Sunday, June 24
Friday, July 13 – Sunday, July 15
Friday, August 24 – Sunday, August 26
Friday, September 21 – Sunday, September 23
Friday, October 19 – Sunday, October 21
Friday, November 16 – Sunday, November 18
Friday, December 14 – Sunday, December 16
The Global Cuisine Series package at The Ritz-Carlton, Half Moon Bay will be offered on the Marriott Moments and SPG Moments websites where rewards guests will be invited to bid points to win this exclusive package. Each package will include an overnight stay, chef-led cooking class, luncheon, and $100 resort credit per night along with the resort fee and valet parking per night.
For more information, please visit http://www.ritzcarlton.com/en/hotels/california/half-moon-bay/dining/global-cuisine-series.
About The Ritz-Carlton, Half Moon Bay
Set atop a rugged bluff overlooking 50 miles of pristine California coastline, The Ritz-Carlton, Half Moon Bay is a 261-room spa and golf resort offering a relaxing and romantic setting. As the San Francisco Bay Area's only oceanfront resort, the timeless estate provides guests with a relaxed yet refined experience for a romantic getaway. For more information, please contact The Ritz-Carlton, Half Moon Bay at 650-712-7000. For room reservations, contact your travel professional, visit ritzcarlton.com/HMB or call Ritz-Carlton worldwide reservations at 800-241-3333. Visit ExperienceHalfMoonBay.com to learn more about the destination.