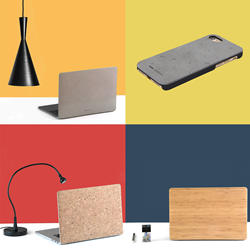 "We wanted to introduce simple products sustainably sourced with Bamboo, Cork, Cement for our minimalist collection for iPhone and MacBook"
SEATTLE (PRWEB) December 19, 2017
ONOTONE™, manufacturer of minimalist backpacks, iPhone and MacBook accessories, has added yet another minimalist product to its inventory: Concrete series made with real cement for iPhone and MacBook.
Concrete series is available for all models of iPhone and MacBook family. Each item is hand-crafted with real cement and the texture remains completely unique from each other. Concrete series provides solid protection to iPhone and MacBook without compromising the look of the devices.
Concrete iPhone case is made with an extremely thin handmade layer of cement and PC material without adding any bulk. It provides super easy access to all controls of iPhone. Concrete MacBook skin is less than 1.5mm in thickness and handmade with pure cement. Texture of each MacBook skin is completely unique and is designed to stick to the curves of MacBook using the latest 3M technology. If necessary this unique MacBook skin can be easily removed without residue despite strong adhesive effect.
"Our concrete series compliments well minimalist lifestyle," says Daminda de Silva, leading spokesperson from ONOTONE™. "We wanted to introduce simple products sustainably sourced with Bamboo, Cork, Cement for our minimalist collection for iPhone and MacBook."
ONOTONE™ has made its world debut by launching minimalist backpack collection. Classic Backpacks and Uptown Backpacks have built a devoted fan base with its nifty shape and convenient design. The company also carries a range of iPhone and MacBook accessories made with Bamboo and Cork.
The company is offering 20% discount on all products and free shipping in the USA for a limited time.
For the next three months, ONOTONE™ will be giving back 10% of the profit to United We Dream, a non profit organization. This is a huge youth-led organization with over 100,000 immigrant youths and allies and 55 affiliate organizations across 26 states. United We Dream empowers people to develop their leadership and organizing skills.
ONOTONE™ is based in Seattle, WA, the USA and was founded in 2017. The company designs and manufactures backpacks, iPhone & MacBook accessories for urban lifestyle.