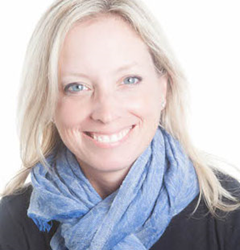 "I'm thrilled to participate as a member of the Board of Directors, and look forward to Lessonly's continued success and industry impact." — Claudia Reuter
INDIANAPOLIS (PRWEB) December 19, 2017
Lessonly, the leader in online training software, today announced the addition of Claudia Reuter to their Board of Directors. Reuter is currently a Senior Vice President at Houghton Mifflin Harcourt and brings a wealth of technology, product, and corporate innovation experience to the rapidly growing tech company.
Reuter is a recognized thought leader in education technology and corporate innovation. Her work earned her recognition as one of the "2016 Women to Watch in Science and Technology" from the Boston Business Journal and as a "Changemaker" from HUBWeek, a program founded by Harvard, MIT, Mass General, and the BostonGlobe.
"Earlier this year, we partnered with the Athena Alliance to find a woman with a product-leadership background to join our board," said Max Yoder, CEO at Lessonly. "They introduced us to so many great candidates, but Claudia rose to the top as an ideal fit. We are already benefiting from the fresh perspectives she brings to the Lessonly team."
Last month, Lessonly celebrated an $8M Series B fundraising round, led by OpenView, with the expressed goal of investing in product innovation and scaling operations. Reuter's unique experience in both of these areas makes her the perfect fit to advise Lessonly on their next stage of growth.
Prior to her leadership role at Houghton Mifflin Harcourt, Reuter co-founded and served as CEO of SchoolChapters, an education SaaS company. Reuter led the company through two rounds of funding and an acquisition. She is also an active speaker in the Boston tech community, having spoken at Harvard, MIT, Boston University, and multiple corporate innovation summits.
"With a unique, learner-first mission, and an elegant software platform, Max and the Lessonly team have empowered companies to deliver on their goals of continuous improvement," commented Reuter. "I'm thrilled to participate as a member of the Board of Directors, and look forward to Lessonly's continued success and industry impact."
Reuter joins Scott Dorsey, Mike Fitzgerald, Ricky Pelletier, and Max Yoder on the company's board. Lessonly continues to add other personnel to their team as part of their targeted growth initiatives. Openings can be found on Lessonly's website.
About Lessonly
Lessonly is powerfully simple training software used by over a million learners at more than 500 companies to translate important work knowledge into lessons that accelerate productivity. Sales teams across the world use Lessonly to reinforce best practices, accelerate rep performance, and close more deals. Support teams across the world use Lessonly to serve customers faster, drive consistent support, and elevate the customer experience. Learn more at Lessonly.com.
About Athena Alliance
Athena Alliance is a national nonprofit organization dedicated to advancing gender diversity in the boardroom by extending board networks across a range of industries and executives. Empowering women to contribute at their highest level of impact, Athena Alliance has a network of more than 800 C-level women, venture capitalists and CEOs from more than 100 companies. Sponsors include Accenture, Autodesk, Intuit, OpenView Venture Partners, and others. Founded in 2016, Athena Alliance is headquartered in Half Moon Bay, Calif. For more information, visit http://athenaalliance.org.