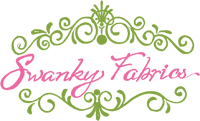 GREENSBORO, N.C. (PRWEB) December 19, 2017
Representatives with Swanky Fabrics, a Greensboro, North Carolina-based company, announced today that it has added new Duralee Fabrics to its online store.
"We invite new and existing customers to browse our website and discover a variety of new fabrics available right now, just in time for the holidays," said John Dawkins, president of and spokesperson for Swanky Fabrics, a company that believes Swanky is a way to say who you are without having to speak.
Duralee, according to Dawkins, continually creates palettes and styles with comfort and authenticity, injecting a heavy dose of what's now and what's timely, all the while maintaining a balance with timeless versatility.
The newly added products include: Oceania Indigo; Evergreen; Baby Blue, and Lavender.
Ask to why customers should try the newly added fabrics, Dawkins, pointed out that they are sophisticated, yet youthful and fun.
"The Duralee design aesthetic upholds an ageless appeal," Dawkins stressed, before adding, "just as it is with these newly added fabrics, the products available in our online store are ever-evolving products tailored to meet the changing needs of today's design community. The great thing about Duralee, the new brand of fabrics we've added, is that the company has spent over 60 years cultivating finesse with fabrics, and is known for tapping and developing hot new designs in which customers will directly benefit from."
For more information, please visit https://www.swankyfabrics.com/about-swanky-fabrics.html
About Swanky Fabrics
Swanky Fabrics is a leading online destination for upholstery and drapery fabrics from over 50 brands such as Barrow, Duralee, Fabricut, Kravet, Magnolia, Robert Allen, Scalamandre, Sunbrella, Waverly etc.
Source: Swanky Fabrics