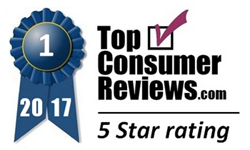 No one makes designing Photo Cards easier than Mixbook... we're pleased to award them our five-star rating in 2017.
Overland Park, KS (PRWEB) December 19, 2017
TopConsumerReviews.com recently gave a best-in-class 5 star rating to Mixbook, a leader among services for making and buying Photo Cards.
With digital photography so accessible for even the most novice shutterbugs, it's no wonder that Photo Cards have increased dramatically in popularity. Whether sending a wedding announcement, graduation invitation, or traditional Christmas greetings, senders know that their friends and family will enjoy seeing their loved ones instead of getting a generic factory-printed card. Now, Photo Cards are extremely easy to create, with online services that specialize in helping customers create a design with the styles, fonts, and formats they want.
"No one makes designing Photo Cards easier than Mixbook," explained Brian Dolezal of TopConsumerReviews.com, LLC. "From start to finish, they help you create a card that will leave you smiling. Choose a template for your occasion, like Baby Announcements or Holiday Cards, and upload your photos from your laptop or social media site of choice. It's that simple. Mixbook also continues to pay close attention to customer service, especially with their 30-day satisfaction guarantee. For the second consecutive year, Mixbook is our highest-ranked provider of Photo Cards. We're pleased to award them our five-star rating in 2017."
To find out more about Mixbook and other providers of Photo Cards, including reviews and comparison rankings, please visit the Photo Cards category of TopConsumerReviews.com at http://www.topconsumerreviews.com/photo-cards/.
About Mixbook
Mixbook is a leader in personalized photo publishing - a $10 billion market which includes scrapbooking, yearbooks, photo books, cards and stationery. Since its inception in 2006, Mixbook has differentiated itself through its superior user experience, outstanding customer service, and high-quality printed products. More than 90% of Mixbook customers recommend the service to family and friends. Mixbook is a private company based in San Jose, California.
About TopConsumerReviews.com
TopConsumerReviews.com, LLC is a leading provider of independent reviews and rankings of hundreds of consumer products and services. From Photo Cards to Christmas Cards and Photo Books, TopConsumerReviews.com delivers in-depth product evaluations in order to make purchasing decisions easier.